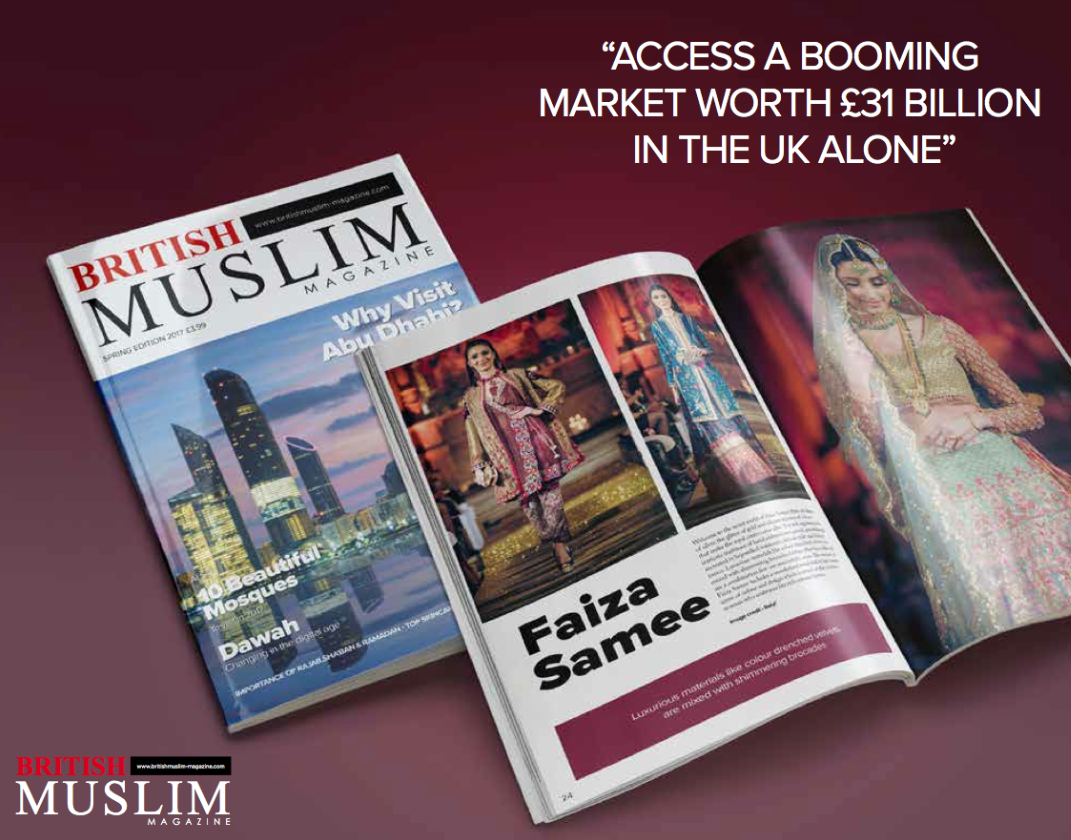 The editors of two magazines targeting Britain's 2.8m Muslims have spoken about why they felt the need to provide a different media perspective for the minority group.
The Black Muslim Times UK is a website set up  British Nigerian Halimat Shode which is updated with new features and interviews on a quarterly basis and seeks to better represent black British Muslims.
British Muslim Magazine is a lifestyle title established in 2013 and aimed at a UK audience.
BMM co-founder Natasha Syed said: "The Daily Mail and mainstream publications have so many readers, and you just think one misrepresentation can take a very large readership to start thinking something completely different.
"And if they don't put that right in follow-up features and follow-up blogs or whatever, I think they're painting it a completely bad picture for readers."
Recent years have seen a number of British Muslim publications appear, Syed's included.
She said of the recent increase in Muslim media: "I think people are fed-up from the misrepresentation through mainstream media.
"To have that feeling that suddenly you're not feeling that British because of all this news and all of this pollution of politics that takes place in news and media is actually quite depressing, it's quite sad, and there's absolutely no need for it.
"These magazines are created by mid-20-year-olds that at their age they should be doing other jobs, but they're becoming publishers and they're becoming website owners because they're completely sick of reading media that just doesn't represent them."
However, Syed said that mainstream media portrayals of Muslims have improved over the years: "Now when you read something about a Muslim…through mainstream press, it is a little bit more sensitive, which is nice because it allows you to kind of carry on reading.
"Their attention to detail is slightly more, so they will really go into finding out what the situation is."
She praised a story in the Guardian that corrected allegations that a Muslim woman drove into a group celebrating Eid as an act of terror, rather it was an accident.
Mail Online issued an apology after referencing Muslim "hate cleric Abu Hamza" in the article breaking news of the Finsbury Park mosque attack.
Syed said publications such as the Black Muslim Times UK have been launched because the communities are "not being represented in the right way".
Syed said: "We're trying to say Muslims can do other things…there's no point dividing us and trying to use a scaremongering tactic via news or via publications, websites or TV, it's just not going to work."
Titles offering a more positive image of British Muslims include: Sisters magazine, which publishes real-life stories with a religious focus to support Muslim women, and Muslim Lifestyle a title which focuses on lighthearted aspects of Muslim life.
Syed said that with her title she has tried to "move the focus to something else which was more to do with travel, fashion and some lifestyle things that Muslims genuinely do on a day-to-day…and stay clear of the political side of the news.
"The magazine definitely provides a kind of inspiration and advice for Muslims in Britain looking for luxury travel experiences, food, heritage and fashion."
The title claims to have 20,000 readers of the print edition and covers Muslim fashion events, halal food festivals and Eid festivals such as the London mayor's Eid festival earlier this month.
The BMM team currently consists of two freelance sales people, two full-time editors working alternate months and freelance editorial contributors.
Syed said you don't have to be Muslim to work for the title: "Our staff isn't just Muslim focused, in fact we want to diversify it to have the chance to work with people who have the skills and knowledge to take this further, not the religion and faith to take it further."
Halimat Shode of the Black Muslim Times UK is one of the 20-somethings that Syed mentioned who are  taking it upon themselves to establish publications aimed at Muslims in the UK.
Like Syed, Shode wishes to stay clear of the negative Muslim narratives portrayed by the mainstream media: "It's not about acting like there's nothing bad happening, of course there's always something bad happening in the world, and those things can be highlighted."
She added: "But what the publication is, is definitely a reinforcement of positivity…and letting people see themselves when they normally don't."
She started the title as a blog in December 2015, half a year after completing her undergraduate degree in English and Creative Writing.
She said: "It's very much what it says it is, a platform of representation, as opposed to feeling left out and feeling like I need to compete with other publications or other groups.
"So what you see on the publication is people telling their stories, people having conversations, people sharing their perspectives, as opposed to just a case of reacting to lacking representation or other issues."
Shode spoke of Muslims taking ownership of their narratives with the founding of their own platforms: "There's only so much you can do in a mainstream publication; you might get a column and you might have a few features, but there comes a point where you want more of your story being told, you want more of your perspective being shared, and you want to share it in a way that you want to share it."
BMT profiles black British Muslims from a range of fields including the arts, sports, entrepreneurship and business.
Shode feels it important to support one another within such a significant minority group: "I do want their work to be highlighted.
"So it's not just about showing them off, it's about saying this is great work they're doing and you haven't heard about them because they're not represented.
"And rather than have a whine and a moan about them not being represented, what I can do is just…seek out these people."
Shode hopes to establish a fixed editorial team that can help her broaden the content of the publication, as well as make it a multimedia platform through which video content can enhance interaction with the readers.
At the moment Shode funds the business through private tutoring and agency work.
Black Ballad, produced by black British women, Amaliah, produced by Muslim women, and Media Diversified are other online platforms for which Shode still sees it important to write, in order for her stories and BMT to reach a larger audience.
The next print edition of British Muslim Magazine can be ordered online for £3.99.
Email pged@pressgazette.co.uk to point out mistakes, provide story tips or send in a letter for publication on our "Letters Page" blog