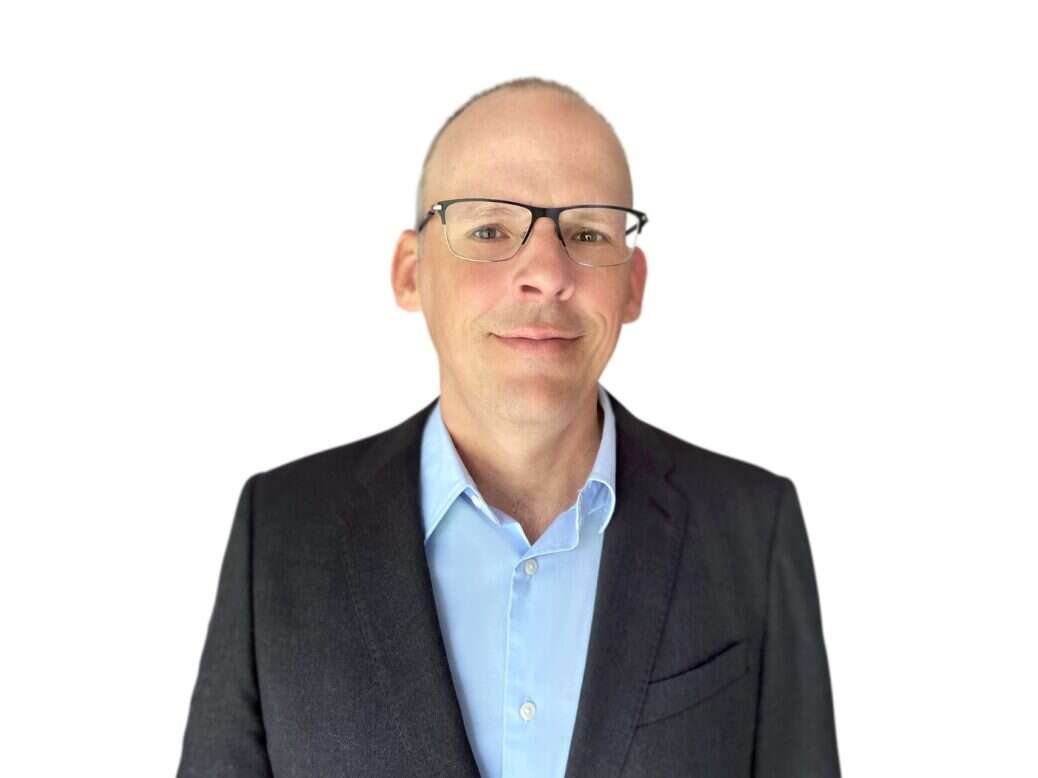 The executive director of a new outlet covering global health, The Examination, has said there is "no for-profit model" for the kind of work his organisation has set out to do.
Ben Hallman left his role as a senior editor at the International Consortium of Investigative Journalists in December to help build The Examination, which launched on 13 September.
The staff currently consists of 12 people, with plans for three or four more, and has so far published stories on topics including China's state tobacco monopoly, influencers paid to shape the diets of Tiktok users and the news that lead is even more of a threat to public health than previously believed. Staff at the wholly remote newsroom are concentrated in the US, with three employees set to be based in the UK once the current hiring round has finished.
The Examination is funded, Hallman said, with a "generous" grant from Bloomberg Philanthropies. The China Tobacco project specifically was supported by the Pulitzer Centre.
"There is no for-profit model to do what we're doing. Just full stop," Hallman told Press Gazette.
"Which isn't to say that on any given day somebody from The New York Times or whoever might not do an amazing story on our beat. But to put the kind of resources we're putting into it – there isn't a for-profit newsroom that would take this on."
Asked how long The Examination's current funding will last, he said: "We have a good foundation of support. Like all non-profits in the media space, of course, we're seeking additional support. We want to diversify our funding and increase it."
Hallman said The Examination had just hired its first business development employee, joining from fellow journalism non-profit The City, and that it had a second coming aboard soon. The publisher is still looking for a director of development.
Hallman said: "If we want to survive long term, we have to invest in the money-raising part of the operation."
The Examination does not have plans to implement a paywall, however. Hallman said: "I think there's an inherent conflict between doing public interest journalism and also blocking the public from accessing it."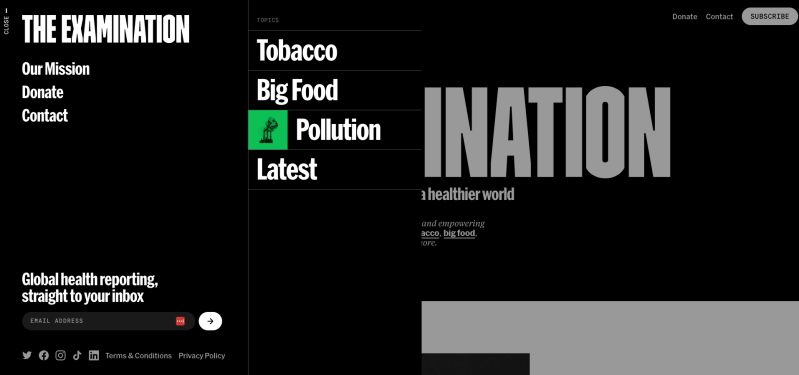 Who is The Examination for?
Hallman told Press Gazette The Examination is targeting "several audiences" including "a core audience, probably, of people who are already interested in health and health issues – from health practitioners to people that work at NGOs to people in the medical community".
But he added that "what we're interested in is reaching audiences in these communities where the harms are disproportionately felt…
"There is a wide range of health threats that are critically under-covered by the Western media, especially. These health threats affect all of us, but disproportionately harm the poor."
Hallman said The Examination uses a partnership model through which it works with local news outlets in the areas it is covering to deliver stories.
"An ideal collaboration might include a large Western media outlet that has broad reach and audience and, frankly, is read by people with power and influence and the ability to effectuate change. But then also working with a local partner in a place like Cameroon, which is where we're going to have a story coming up in a few weeks."
This approach, he said, avoided "parachute journalism" in favour of "working with people who actually understand the communities and the problems we're going to report on".
At time of writing The Examination had co-published a story with The Washington Post and another with Guardian US, while the report into China Tobacco was reported alongside Germany's Der Spiegel and Paper Trail Media, Austria's Der Standard, and Chinese-language Initium Media.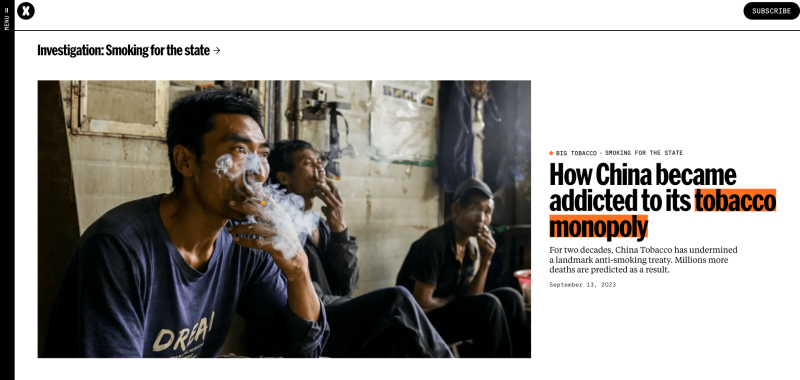 Given the outlet's coverage focuses on issues that disproportionately impact marginalised people, Press Gazette asked whether The Examination would be a campaigning organisation.
"I think that there is a line between advocacy and journalism and we want to stay on the right side of that," Hallman said.
He added that the new outlet wants to "build awareness" and "point to possible solutions" rather than advocate for any specific policies.
"In my career, I found that investigative journalism that very clearly defines a problem, [and] is revelatory in how it does that, is the best way to bring about change."
[Read more: How the News Revenue Hub used blood bank donor expertise to help local US publishers raise $61m]
Email pged@pressgazette.co.uk to point out mistakes, provide story tips or send in a letter for publication on our "Letters Page" blog