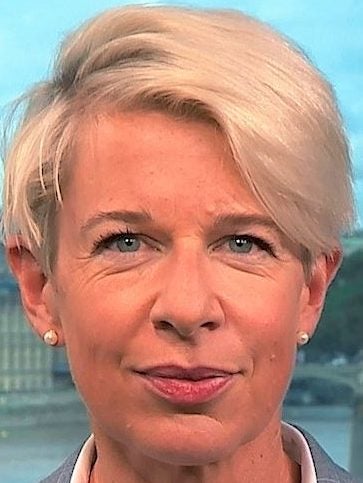 Mail Online columnist Katie Hopkins told an event in London this week that "there is no such thing as fact anymore… there is no truth, only the truth of the interpretation of truth that you see."
In conversation with The Guardian's Decca Aitkenhead at The Media Society in London, Hopkins also reasserted her belief – at first tweeted but then removed – that Saturday's incident outside the Natural History Museum in Kensington, was "a terror attack".
Some 11 people were injured when a car collided with pedestrians on Saturday, 7 October. Police have said they are not treating the incident as terror related.
Hopkins said the BBC's report that it was a road traffic accident amounted to "blatant state propaganda."
"I don't buy that it was a road traffic accident, I am suspicious because of the headlines that say 'he deliberately drove into us', I am suspicious about where it happened, that he hit a bollard and carried on driving."
She added: "We can never talk about what we should do after a terror attack in this country, we have to say we stand united, we are not cowed, light a bloody candle, make a heart gesture at the sky, have a hashtag.
"I am sick of all that Labour nonsense by Sadiq Khan. We are not allowed to talk about Muslim extremism – enough!"
Hopkins derided accusations that she was doing the job of ISIS (Islamic State) by encouraging people to believe it was terrorism.
"I think our political class are responsible because they have failed to act or do anything about the 23,000 active jihadis on the watch list.
"Do I want to round them up? Yes. Do I want to deport as many of them as I can? Yes. Can you believe that Channel Four made a documentary about 'The Jihadi Next Door' – it's bonkers.
"With the police, every time it's interview, release, interview, release. It's the appeasers who are doing the work of the terrorists in this country."
Of the journalistic maxim that "comment is free, facts are sacred", Hopkins later said: "I have no belief in fact. Fact is an antiquated expression.
"All reporting is biased and subjective. There is no such thing as fact any more. There's biological, scientific fact but politically all reporting is biased and skewed. There is no truth, only the truth of the interpretation of truth that you see."
Asked why, in person, she was "courteous, kind and pleasant", but seemed to take a "gratuitous pride" at the keyboard for "being as ugly as humanly possible", Hopkins said: "When I write it's one big gush which is later edited and legalled."
She justified her description of migrants as "cockroaches" in The Sun because, with all the hardships migrants had to face, she had recalled that cockroaches were "the only creature that could survive a nuclear holocaust".
The comparison prompted condemnation from the head of the United Nations and an arrest under caution for suspected hate crime by the UK police – actions she claimed had been prompted by complaints from the Society of Black Lawyers. "And as an officer said to me 'we can't be seen to piss them off'," she said.
"I have been reported to social services twice over the welfare of my children and had inspectors at my house because people think they can take you down. But if you put yourself out there, you suck it up. I don't like it – but you have to really mean what you say and stand by your words and take the flak."
But did freedom of speech extend to calling a nine-year-old autistic child on TV "a twat"? "All parents want a badge when they don't bring their kids up successfully. They trot to the doctors and get a bottle of pills and now one in four children are declared educationally sub-normal.
"I am tired of arguments about free speech. It can be nebulous, vague and without purpose. What I am trying to stand for is to show people that there are lots of different views out there which you might disagree with, or even hate, but I want people to stand up and own their opinions, which cannot be right or wrong."
She said the curtailing of free speech happened all the time, as when actresses failed to come forward after "fellating" Harvey Weinstein, or journalists failing to criticise the BBC in the hope that one day they might get a job there.
Of her planned tour of schools, entitled Stand Strong Schools under the banner: "We don't have to agree to get along, we can agree to differ," Hopkins said: "Young people email me all the time and ask me to come to their schools because they are sick of being told what to think".
One politics student who "quite liked Trump, gave up because he was told by teachers that he couldn't think that," she said.
"The Lefties don't want me to come, but people are offering to pay for halls. It's quite extraordinary." She claimed her main audience on Twitter is 17-24 year olds, and that her young audience at LBC had been bigger than Capital.
Meanwhile, Hopkins agreed that her view of the truth had "cost quite a lot of money", quoting the £150,000 in damages paid by Mail Online to a family who were barred from boarding a flight to America after she claimed they had terrorist links.
But she said: "If you delete a tweet, apologise in the words given by someone's solicitors, then the bar for litigation is lower than my labia – and my labia is pretty damn low!"
"But it breaks my heart that every bit of legal advice is settle, settle, settle. This is just a litigious society – it's madness".
Email pged@pressgazette.co.uk to point out mistakes, provide story tips or send in a letter for publication on our "Letters Page" blog