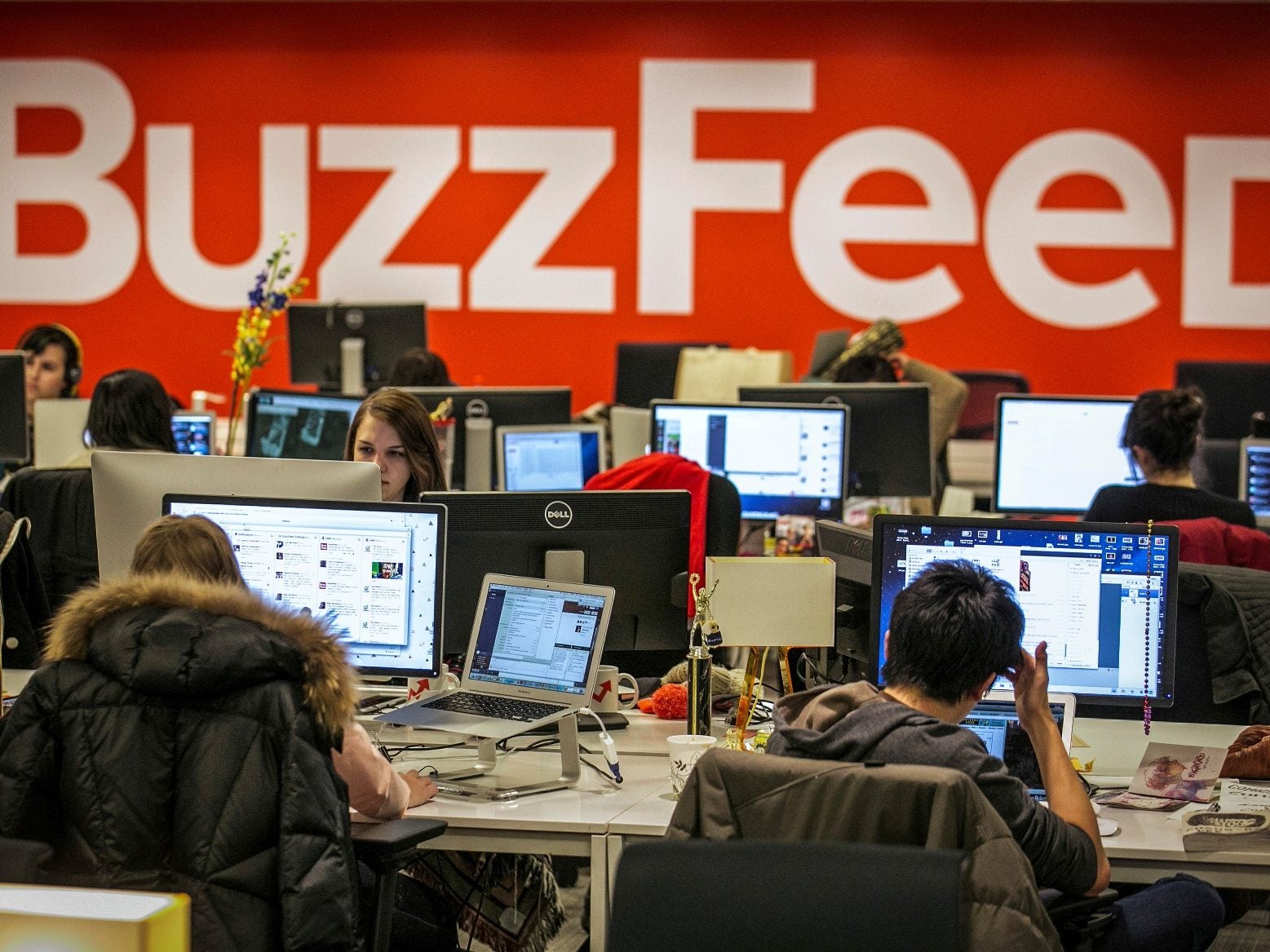 Buzzfeed UK staff are set to vote on whether they want trade union recognition from the National Union of Journalists, after fighting for the right to a ballot for 18 months.
Ballot papers were posted to a group of staff from the website's News and Buzz sections on Tuesday so they can vote on whether the NUJ should be recognised for collective bargaining on their behalf.
The Buzzfeed NUJ chapel first asked management to recognise their right to representation in November 2016, in a letter to editor-in-chief Janine Gibson.
The union said that the postal ballot, which will end at 12pm on 6 July, comes after more than 18 months of "swingeing redundancies and a lengthy, statutory legal process".
At the start of this year, 23 editorial redundancies were made out of 76 newsroom staff at Buzzfeed UK.
Chief executive Jonah Peretti told staff at the time: "In the UK we are realigning the organisation to focus on content for global audiences and our core UK news beats – investigations, politics, media and social justice – and intend to make reductions across buzz, commercial, news and admin as a result."
Laura Davison, NUJ national organiser, said it had been a "tough time" for members at Buzzfeed but that the union was "100 per cent behind them as they cast their votes for recognition".
NUJ general secretary Michelle Stanistreet has written an open letter about the importance of having a collective voice at work, encouraging Buzzfeed staff to vote for union recognition in the next two weeks.
She wrote: "It would be no surprise if after such a torturously long and bureaucratic journey to deciding upon trade union recognition at Buzzfeed, some editorial staff have forgotten why they embarked so enthusiastically upon this process in the first place.
"One of the problems of the statutory processes is that companies unwilling to enter into a voluntary recognition agreement can force trade unions through what can seem an interminable legal cul-de-sac designed to deter all but the most dogged of journalists and trade union activists.
"Fortunately NUJ members at Buzzfeed tick both of those boxes and have stuck with the process, committed to doing their bit to ensure they and their colleagues have a proper, independent voice at work."
Stanistreet added that NUJ recognition would improve staff relations with Buzzfeed management and produce results that collectively benefit workers.
The NUJ has received messages of support for the Buzzfeed recognition campaign from journalists around the world.
Guardian columnist George Monbiot said: "All workers should be represented by trade unions and enjoy collective bargaining rights. Otherwise they get picked off by their employers and played against each other.
"Negotiations over wages and rights should be conducted openly and transparently, to guard against exploitation. This applies to Buzzfeed as much as to any other company. I wish you all strength in achieving formal trade union recognition."
Members of the AFP London office NUJ chapel also sent "support and solidarity", saying they hope to hold a similar vote in the future once they have grown in size.
"We have found the advice and support of the NUJ over the past 18 months played a significant role in helping us to achieve the first universal pay rise for locally employed staff in seven years in February," they said.
"We would encourage NUJ members and staff at Buzzfeed UK to vote 'yes' for union recognition in their workplace."
Support also came from Al Jazeera English NUJ Chapel, which last month secured a pay deal to end a four-year wage freeze, and Vice Union in Canada.
After Buzzfeed staff took the first step towards union recognition in 2016, Peretti wrote to them saying: "In the past, I've said I don't think a union is in the best interests of Buzzfeed or our employees.
"Unions represent employees around a rigid skillset that doesn't reflect the fluid and flexible way we work, they introduce an extra layer of bureaucracy and process, and they unnecessarily divide our teams, limiting the many benefits of everyone being part of a venture backed tech company.
"Some outside activists have criticized my motives or my character but I want all of you to know that my top two priorities are serving 1) the public, and 2) the people who work at Buzzfeed."
Picture: Reuters/Brendan McDermid
Email pged@pressgazette.co.uk to point out mistakes, provide story tips or send in a letter for publication on our "Letters Page" blog