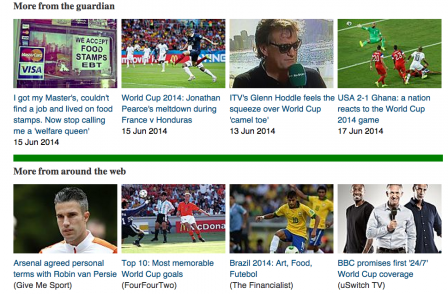 The Advertising Standards Agency has called into question the widespread practice of providing recommended links to advertisers below online stories in a ruling against 'content discovery' platform Outbrain.
The ruling follows a complaint against an unknown newspaper about one of several ads which appeared under the heading: "You may also like these".
A link headed "(Keep Your Email Private!)" clicked through to a website run by an advertisier.
The complainant challenged whether it was clearly identified as an advert as required under the ASA Code.
Outbrain provides a similar service to a number of national newspaper including The Guardian, Express Newspapers and The Telegraph.
According to the ASA, Outbrain said that "although the content complained about had been paid for by a third party, it was not advertising in the traditional sense and their recommendations were better described as 'promoted content' or 'promoted stories'.
"They said their approach was in line with industry standard practices and they used the text 'You may also like these' and 'Recommended by', which appeared next to their logo, to identify that the paid-for ads linked to third-party sites.
"When that logo was clicked on, users were taken to a pop up headed 'What are these links?', which gave information about Outbrain's service and also included the text 'Links to 3rd party content were paid for by an Outbrain customer'."
Outbrain is paid a commission by advertisers on every click generated and shares this with publishers.
The ASA upheld the complaint and said: "We considered consumers would not necessarily realise that the various different 'recommendations' included formed part of the same 'panel' and that they might not notice the 'Recommended by' text, which appeared in the bottom corner. We also considered consumers might not realise that the logo included a link to additional information.
"Nevertheless, we noted that marketing communications must be obviously identifiable as such and considered the text 'You may also like these' and 'Recommended by', as well as the information provided in the pop up and in the link below the ad, was not sufficient to ensure it was obvious to consumers that the ad was a marketing communication. Because the ad was not obviously identifiable as marketing communication, we concluded that it was misleading.
"The ad must not appear again in its current form. We told Outbrain to ensure future advertising placed by them was obviously identifiable as such."
The picture at the top of this story shows Outbrain advertising links provided by The Guardian under the heading 'More from around the web'.
The below paid-for links are provided by Outbrain for the Telegraph.
The paid-for links below are provided by Outbrain for The Express.
Outbrain links provided for The Sun:
Press Gazette also uses Outbrain to provide promoted links below stories and will be reviewing whether or not they breach ASA guidelines.
Email pged@pressgazette.co.uk to point out mistakes, provide story tips or send in a letter for publication on our "Letters Page" blog