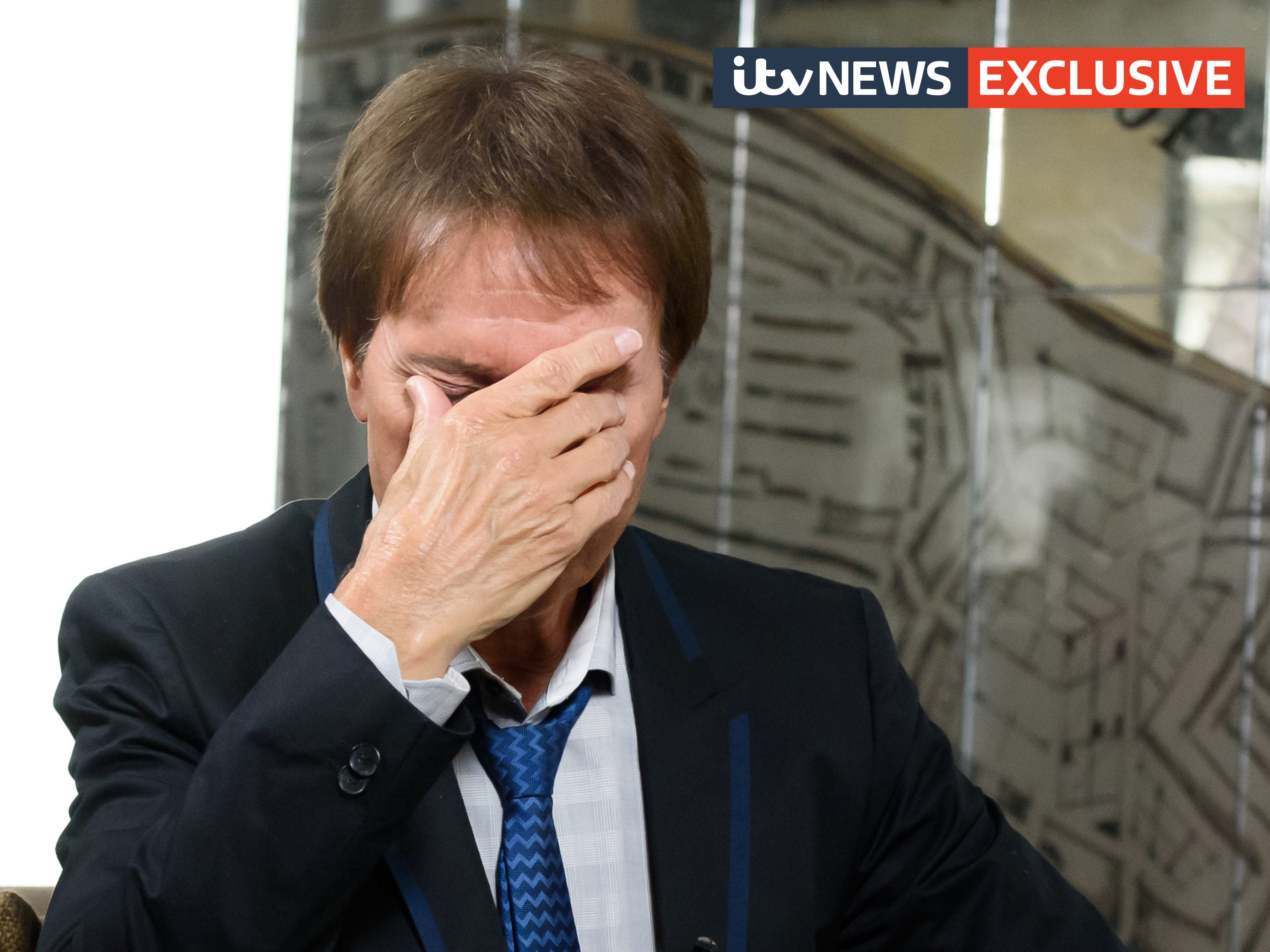 Sir Cliff Richard has said if "heads roll" at the BBC over coverage of a police raid on his home, for which he today won substantial damages in a High Court privacy victory, "maybe it's because it's deserved".
The judgement has caused concern and confusion within the news industry over how journalists should approach naming a police suspect who has not been charged, something that may now incur a lawsuit.
In an interview after today's ruling, Sir Cliff told ITV News that he would "rather ten guilty people get away with it than one innocent person suffer" as he had with press intrusion.
He said: "Ten guilty and one innocent, that's my big argument. I'd rather ten guilty people get away with it than one innocent person suffer. There is no reason for that.
"If the police had found enough to prosecute me, I would have been charged and then I could have been named and if you're charged, it might take two years, your name is out, where other victims could come forward if it's true and even then the court of law could pass that person as innocent."
He added: "A journalist has to be a human being so you can cover the story. Police told them there was an investigation going on but they didn't have to tell the world who was being investigated.
"We wouldn't be talking about this now if they had not named me and the investigation had gone on. It was thrown out eventually. No one would have known I was investigated and I would never have gone through the emotional trauma this has caused me."
Sir Cliff also said it was not his intention to curtail press freedom but that he will "fight to the death against the abuse of the freedom of speech".
He won £210,000 in damages from the BBC, with other special damages based on his financial losses yet to be determined.
The BBC revealed that Sir Cliff was under investigation over a historical child sex allegation made in August 2014 and broadcast footage from a police raid on his home.
The singer has always denied the allegation and the case was dropped with no charges in 2016.
Responding to the suggestion that the press needs to be able to cover investigations to scrutinise the police, he said "yes, but not those who are being investigated".
He added: "I believe the opposition tried to say because I was a prominent figure I didn't deserve the privacy that the man in the street has. I may be prominent but I am not fodder. I refuse to be fodder."
Sir Cliff went on to say that journalists must "be very careful now about how they treat people as human beings".
Many journalists, press campaign groups and specialist lawyers have warned of "worrying consequences" for press freedom after the ruling appeared to now make it unlawful for anyone under investigation to be named before they are charged.
But asked if his case could single-handedly curtail press freedom, Richard said: "Does anybody want to do that? I don't want to do that. I want a correction made to what happened to me and it was made.
"Nobody said anything about freedom of speech but I will fight to the death against the abuse of the freedom of speech.
"What the BBC did was an abuse because it seemed to ignore everything ever stated by Magna Carta, Leveson, the police. They took it upon themselves to be judge, jury, and executioner. That's the abuse of it."
Told that freedom of expression is a vital part of democracy, Richard said: "What about my freedom? We can talk about freedom. Freedom goes all sorts of ways. Freedom without responsibility is anarchy. It's anarchy. To me this was an anarchic thing to do."
Conservative MP Anna Soubry called today for "Cliff's Law", which would introduce statutory legislation to prevent the naming of suspects before charge.
But Sir Cliff did not say he would be pressing for a change in the law, saying "it's a rule that's already there" in the Leveson report.
Sir Brian Leveson said: "I think that it should be made abundantly clear that, save in exceptional and clearly identified circumstances (for example, where there may be an immediate risk to the public), the names or identifying details of those who are arrested or suspected of a crime should not be released to the press nor the public."
Sir Cliff said he still wants a proper apology from the BBC but that he will "probably" forgive them.
"I'll have to think about it though," he said. "There were four or five of them. It's the fact they willfully knew – they knew something.
"I can't see how they can excuse themselves for overriding the police. Overriding the Leveson report. Overriding Magna Carta. I'd like to give the benefit of the doubt.
"I'm starting by even suggesting they made a mistake. People make mistakes and I can forgive a mistake. If they said to me: 'We're really sorry, we made a mistake' – but I felt no remorse during the court case.
"I was brought to tears many times, I was choking up a lot because they spoke about me like I wasn't even there. There was no remorse. It was only that they were completely right and didn't care about me."
In a statement outside court today, BBC director of news and current affairs Fran Unsworth said the corporation is "sorry for the distress that Sir Cliff has been through".
"We understand the very serious impact that this has had on him," she added.
Unsworth also revealed that the BBC is considering appealing the judgement, to which Richard said "good luck to them".
"I can't see how they can change…If they've already said they've made mistakes… You can't give the freedom to the press and say 'you can say what you like about anybody' which is what happens now.
"It's not the freedom we want to lose. It was the abuse of that freedom. This was an abuse. They should have followed the rules.
"They agreed they made some mistakes. The worst thing they did, the most disastrous thing they did, which has now been ruled by the judge, the most unlawful thing they did was to name me before I was has charged."
He added: "I'm not against the press. We need the press.
"But I don't trust them as much as I used to."
Picture: ITV News
Email pged@pressgazette.co.uk to point out mistakes, provide story tips or send in a letter for publication on our "Letters Page" blog