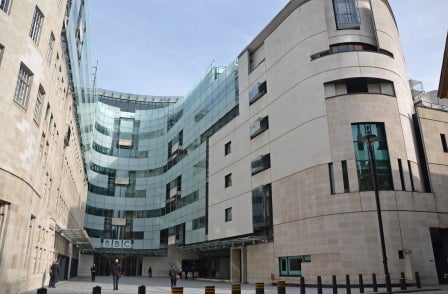 The BBC has come under pressure to stop using the term "Islamic State". (Picture: BBC's New Broadcasting House, Shutterstock)
A letter from 125 MPs has called on the corporation to instead adopt the term "Daesh" to describe the terrorist organisation.
Prime Minister David Cameron agreed in Parliament yesterday that the term "Islamic State" is inappropriate.
In the Commons yesterday, Angus Robertson, the SNP's Westminster leader, said to Cameron: "The Prime Minister was right to highlight the longer-term challenge of extremism and radicalisation. He pointed out the importance of getting terminology right and not using the name 'Islamic State'.
"Will he join parliamentarians across this House, the US Secretary of State and the French Foreign Minister in using the appropriate term?
"Does he agree that the time has come in the English-speaking world to stop using 'Islamic State', ISIS or ISIL and that instead we and our media should use 'Daesh', the commonly used term across the Middle East?"
Cameron responded: "I agree with the honourable gentleman on the use of the term 'Islamic State'. This is particularly offensive to many Muslims who see, as I do, not a state but a barbaric regime of terrorism and oppression that takes delight in murder, in oppressing women and in killing people because they are gay, so I raised this with the BBC this morning.
"I personally think using the term ISIL or 'so-called' would be better than what it currently uses. I do not think we will move it all the way to 'Daesh', however, so I think saying ISIL is probably better than saying Islamic State, because in my view it is neither Islamic nor a state."
Earlier, on BBC Radio 4's Today programme, Cameron was asked by presenter John Humphrys: "Does Islamic State pose an existential threat to the Western world, to us?"
Cameron responded: "I wish the BBC would stop calling it Islamic State because it's not an Islamic state. What it is is an appalling, barbarous, regime. It's a perversion of the religion of Islam and many Muslims listening to this programme will recoil every time they hear the words Islamic State."
The letter signed by 125 MPs, led by Rehman Chishti, was sent on 25 June to BBC director general Tony Hall. Signatories included Boris Johnson, the SNP's Alex Salmond and Home Affairs Select Committee chair Keith Vaz.
It said:
We, the undersigned, ask that you consider making it the BBC's official policy to refer to the so called 'Islamic State of Iraq and the Lavant' (ISIL) as 'Daesh'.

"The use of the titles: Islamic State, ISIL and ISIS gives legitimacy to a terrorist organisation that is not Islamic nor has it been recognised as a state and which a majority of Muslims aorund the World finds despicable and insulting to their peaceful religion.

"Many other countries, including France and Turkey, are using the term 'Daesh', which is an Arabic acronym for the group's name and refers to 'one who sows discord'. In September, the French Foreign Minister urged the media outlets to use this title instead of Islamic State because 'it [blurs] the lines between Islam, Muslims and Islamists'.

"The BBC has the opportunity to lead on this issue and call this organisation what it really is rather than allowing it to be linked with religion. We hope that you will take up this issue and adopt Daesh as the official title for them."
A BBC spokesperson said: "No one listening to our reporting could be in any doubt what kind of organisation this is.
"We call the group by the name it uses itself, and regularly review our approach.
"We also use additional descriptions to help make it clear we are referring to the group as they refer to themselves, such as 'so-called Islamic State'."
Click here to read a BBC analysis piece, "Isis, Isil or Da'ish? What to call militants in Iraq".
Email pged@pressgazette.co.uk to point out mistakes, provide story tips or send in a letter for publication on our "Letters Page" blog