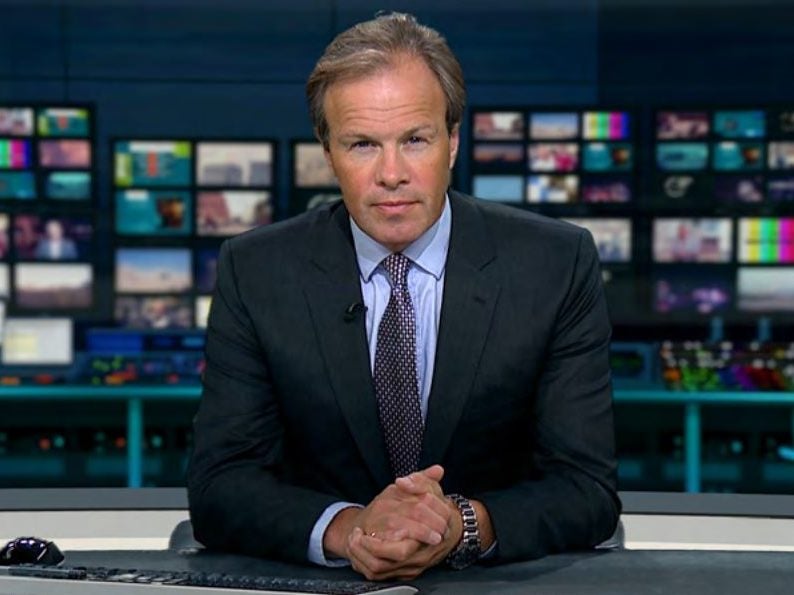 Improvement in the number of expert women appearing on flagship TV and radio news programmes has stalled in the past year, according to new research.
Men still generally dominate flagship news but not as much as they did, as the aggregate ratio of female to male on-air experts, reporters and presenters has improved by 30 per cent since 2016.
The Women on Air research carried out by City University found that ITV News at Ten and BBC News at Ten in particular both remain male-dominated.
The study found that ITV News at Ten has eight times more male presenter-led programmes than female-led, which it attributed to the predominance of anchor Tom Bradby (pictured).
ITV News at Ten also fell down with progress for on-air female reporters and correspondents, as its ratio of 2.6 men to every woman has remained the same since the last study took place in 2015/16.
Despite still having a disproportionate number of male experts, ITV News has improved in that category by 31 per cent since 2015/16, going from a ratio of 3.6:1 to 2.51:1.
See the full results of the survey below.
Rachel Corp, acting editor of ITV News, told BBC Radio 4's Media Show this week that Howell's research had "made us all face up to it".
She said: "It is still a problem. It's something that since I came in I've put a renewed effort into it. It's a real priority of mine – not because I'm a woman editor, but because I think our programmes should reflect the reality of the society that we're broadcasting to, but it's taking some work."
Corp added: "It needs somebody at the top pushing every single day because journalists are busy, news breaks and it's very easy to go to your contacts in your phone and just pick them up, and that has to change."
Professor Lis Howell, director of broadcasting at City University who led the research, said a target ratio of 2:1 male to female experts was realistic and achievable because male expertise still dominates in society.
The research showed that although there was an overall improvement in expert ratios across the programmes surveyed, most of the change occurred in 2017 with little change so far in 2018.
BBC News at Ten fielded fewer female experts in 2017/18 than in 2016/17, although it has improved by 18 per cent since 2015/16.
Howell surveyed five weekday episodes from Channel 4 News, Sky News, ITV News at Ten, the Today programme, BBC News at Ten and Channel 5 News for one week in every month over a two-year period.
She said she was pleased "significant improvements" had been made but that more needs to be done.
"When we started five years ago there were at least four times as many male experts interviewed on these programmes as women," Howell said.
"It's brilliant to see such a big improvement in the number of women experts interviewed and this is down to the efforts made by the broadcasters through initiatives like the Expert Women training days at the BBC, familiarisation for women experts at ITN, and improved databases.
"However, ITV News at Ten and BBC News at Ten remain male dominated and, with the exception of Channel 5, no broadcaster can claim parity or near parity across the three categories we surveyed – experts, reporters and presenters.
"And the fact that not much has changed in the last year means that we have to keep the pressure up."
Howell added that although a 2:1 ratio of male to female experts was acceptable, having women on-air journalists outnumbered by men was "unacceptable".
BBC Radio 4 and Channel 5 News now have slightly more female than male reporters, which has led to an shift in the average ratio from 2:1 in 2015/16 to 1.5:1.
A BBC spokesperson said: "Our ratios are improving but we've said we need to go further and faster with a BBC target for a 50:50 split of expert voices by April next year. The same figures also show that the BBC News at Ten scores well on its presenter ratios."
The broadcaster carries out its own gender monitoring of every programme and has said the balance of experts and correspondents continues to improve.
Last month its split was 57:43, while the BBC News at Six achieved a 50:50 balance.
Experts
| | | |
| --- | --- | --- |
| Broadcaster | Ratio (men : women) 2017/18 | Ratio (men : women) 2015/16 |
| Channel 4 News | 2 : 1 | 2.2 : 1 |
| Sky News | 2.4 : 1 | 2.8 : 1 |
| ITV News at Ten | 2.5 : 1 | 3.6 : 1 |
| Today, BBC Radio 4 | 2.3 : 1 | 2.8 : 1 |
| BBC News at Ten | 3.1 : 1 | 3.8 : 1 |
| 5 News | 1.5 : 1 | 2.1 : 1 |
| Average | 2.2 : 1 | 2.9 : 1 |
Reporters/correspondents
| | | |
| --- | --- | --- |
| Broadcaster | Ratio (men : women) 2017/18 | Ratio (men : women) 2015/16 |
| Channel 4 News | 1.5 : 1 | 1.8 : 1 |
| Sky News | 1.3 : 1 | 2 : 1 |
| ITV News at Ten | 2.6 : 1 | 2.6 : 1 |
| Today, BBC Radio 4 | 1 : 1.3 | 1.7 : 1 |
| BBC News at Ten | 2.3 : 1 | 2.1 : 1 |
| 5 News | 1 : 1.02 | 1.1 : 1 |
| Average | 1.5 : 1 | 2 : 1 |
Presenters
Broadcaster
Ratio (men : women) 2017/18
Ratio (men : women)

2015/16

Channel 4 News
2.3 : 1
2.7 : 1
Sky News
1.01 : 1
1 : 1
ITV News at Ten
8 : 1
5.2 : 1
Today, BBC Radio 4
2.4 : 1
2.26 : 1
BBC News at Ten
1.5 : 1
2.1 : 1
5 News
1 : 1.4
1 : 1.3
Average
1.2 : 1
2 : 1
Email pged@pressgazette.co.uk to point out mistakes, provide story tips or send in a letter for publication on our "Letters Page" blog