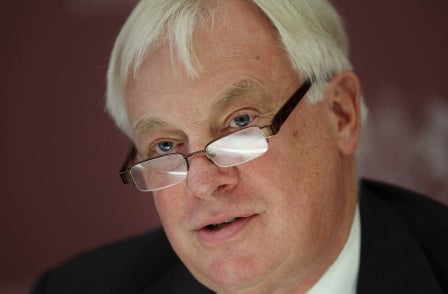 Press has trashed reputation of Entwistle by portraying him as a 'hapless or inadequate figure'

Fears that Google and Apple could become 'gateways' to news

We could regulatte traditional media companies into 'irrelevance', warns Trust chairman
The BBC needs "sufficient heft to be able to argue its corner" with global corporations likes Apple and Google, BBC Trust chairman Lord Patten said last night.
The peer also accused the press of trashing the reputation of former director-general George Entwistle, who quit the corporation over his handling of the Jimmy Savile and Newsnight scandals, by portraying him as a "hapless or inadequate figure".
Addressing the Voice of the Listener & Viewer's annual Autumn Conference yesterday, Patten said the "big arguments for why we need the BBC remain strong". 
"In fact, as some newspapers decline, as the world goes digital and as the big media companies go global, those arguments may grow even stronger," he said.
"Globalisation has made the world more connected than it used to be.  If that promotes the free exchange of ideas, technology, and culture it can only be a good thing." 
Patten told the conference that an "important dimension" to the Lord Leveson's report, which is due out on Thursday, was his examination of plurality of media ownership.
"Plurality is an ugly word but a noble concept," he said. "It is about ensuring citizens have a choice of different opinions, different perspectives, different ways of looking at the world. 
"Nonetheless, the government faces a dilemma if it wants to legislate to protect plurality in any future UK legislation.
"Because if we want growth, investment, competition and success it will be dangerous to ignore global market shifts and giant digital companies and obsess too much about regulating the success of more traditional, home-grown companies. 
"If we are not careful, we could end up regulating them into irrelevance.  We can't afford to be too parochial."
Patten suggested that when looking at other countries the "number of reputable providers of broadcast news and print journalism doesn't seem too unhealthy at present" in the UK.
"But the problem may be one further down the road, as the market changes," he continued.
"If giants like Google and Apple continue to grow at their current rate they will become more and more powerful and will acquire more and more influence over the way people use different media on a day-to-day basis. 
"They may come to control the so-called 'gateways' that people use to get to news and other programmes. 
"The BBC, with its particular public service mission and its commitment to impartiality and a spread of different opinions, is a positive addition to the plurality of our media. 
"But it can only fulfil its mission if BBC services remain prominent and readily available to the public on new digital platforms as well as older ones.
"And that in turn will require a degree of scale: the BBC needs sufficient heft to be able to argue its corner with big global corporations." 
This "sufficient heft" would allow the corporation to support other media outlets "through the links it creates to other UK news providers".
Elsewhere, Patten said that when Entwistle took up his position as director-general he was "determined to try to deal with the problems of disparate siloes and of warring tribes" at the BBC.
It was partly these failings, he suggested, that "helped undermine" Entwistle.
"It further saddens me that he is now written off by large sections of the press as some sort of hapless or inadequate figure, his reputation regularly trashed," he added.
"I don't remember very many people saying that when we appointed him.  The man we appointed was and remains a strong creative and editorial leader, with a reputation built on 23 years of outstanding service to the BBC. 
"Given everything that went wrong, it was the right thing for him to go when he did.  But that should in no way justify the way his reputation is now being traduced."
Email pged@pressgazette.co.uk to point out mistakes, provide story tips or send in a letter for publication on our "Letters Page" blog