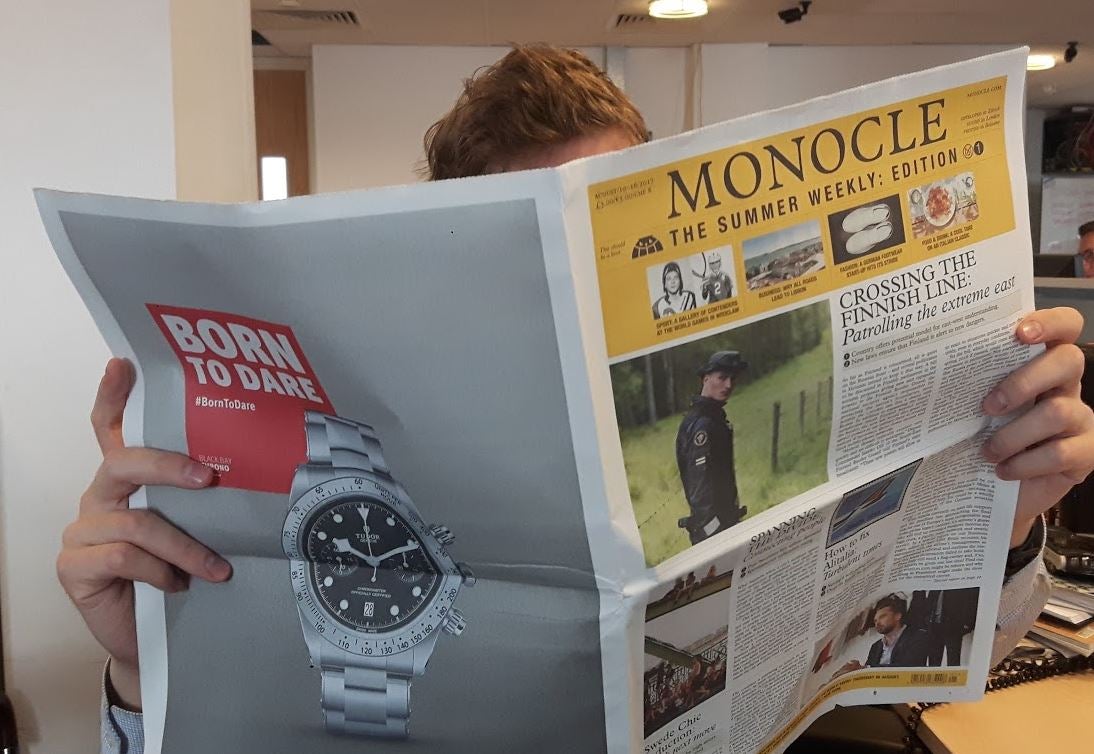 An intern who is preparing to sue Monocle over unpaid wages has revealed the "extreme" 18-page handbook she was given as a guide while working at the glossy magazine and radio station brand.
According to campaigner for fair pay and journalist Tanya de Grunwald, the "Monocle Made Simple – Intern Version" guide "drips with entitlement".
The handbook, first published on De Grunwald's Graduate Fog website, contains a "forensic level of detail" on how to sort post, answer the phone and make hot drinks for guests, she said.
It was shared by Amalia Illgner, a freelance writer who undertook a two-month internship at Monocle's London office last summer.
Illgner says she was paid £30 a day, which works out as £3.53 an hour, well below minimum wage of £7.50 – although Monocle has insisted its internships comply with the terms of the national minimum wage.
When working the 5.30am-2.30pm radio shift, interns were paid an extra £15 per day, Illgner has said.
She is understood to be readying a lawsuit against the publisher for unpaid wages with help from Jolyon Maugham QC, following her first-person exposé in The Guardian last month.
The handbook begins: "Welcome to Monocle! We are excited for your two-month stay with us. This is a guide with everything you need to know for your internship (and then some)."
The handbook urges interns to dress in a way which looks "put together and professional in front of "important people" who are often "touring our offices".
It goes on: "Monocle's interns are given a lot of responsibility, and there will often be several demands on your time at once.
"Don't panic! Ask which task is the most urgent and focus on that one first; be clear about deadlines – ask when something must be finished. Communicate to everyone involved what you are working on and when you will be available next."
There is also a specific two-page guide to the 5.30am shift, for which interns are instructed to arrive 15 minutes before the producer and presenter of the morning radio show.
For the morning shift, interns are also instructed to "clean the studio and put out the papers… clear out yesterday's papers and put the new stack on the stool, fill water jugs and take out any dirty cups from Studio 1 and 2; put out clean cups".
The guide tells interns never to offer payment to radio guests "unless they are a journalist or they have requested payment".
The handbook also features two pages on how to sort and frank post, and advises interns working in the mailroom to seek help from other interns.
"Within your first week of starting ask one of the more experienced interns to take you down and show you how to print labels, record the addresses in the despatch books and sort the post for sending (as all of this might sound a bit confusing)," it says.
The guide instructs interns to be the "front lines of hospitality" and how exactly they should serve drinks to guests, while it also features almost a page of guidance for booking taxis.
On greeting guests, interns are told to "offer to hang up their coat and ask if they would like water/tea/coffee".
It adds: "Also be pro-active in asking staff if they would like a beverage or need help with anything. There are small wooden boards, disposable stirrers and sugar sachets to serve with the guest's preferred beverage."
De Grunwald described it as "one of the most extreme" handbooks she has seen.
She said: "The idea behind so-called 'interns' handbooks' is to minimise the amount of time that paid members of staff need to spend explaining tasks and supervising unpaid or low-paid interns.
"Even creating these documents is unlikely to cost the employer anything. I'd put money on the fact that Monocle's 18-page tome was created by an intern, as part of their placement at the magazine some years ago."
She added: "Three things make this one of the most extreme examples I've seen. First, its length – 18 pages!
"Second, the forensic level of detail about how tasks should be carried out. And third, the document drips with entitlement.
"Monocle expects interns to follow the handbook to the letter, meekly carrying out the tasks without a real human to supervise them, no questions asked. That would be rude enough, but the fact they're paying less than the minimum wage really takes the biscuit."
Explaining why she wants to take legal action, Illgner said: "For two months, I compiled research notes for Monocle's radio producers, transcribed interviews for Monocle's reporters, sorted Monocle mail, covered for the Monocle front desk, booked taxis for Monocle radio staff, and invited on-air guests in to Monocle.
"I also wrote a number of articles, including a 1,500 word piece that appeared on the front page of Monocle's summer newspaper. All while being paid less than half the minimum wage.
"Despite having invested £10,000 and a year of hard work in my post-graduate journalism training at Goldsmiths, I have never felt less valued than I did at Monocle.
"I know that suing them means it's unlikely I will get any paid work from them. But it is the principle. If internships are to be fair and open to everyone, then proper pay is vital."
Press Gazette understands that all Monocle employees have access to a similar handbook, although the guide we have seen is clearly marked as being for interns.
A Monocle spokesperson declined to comment for this article, but previously told Press Gazette: "We remain proud of our internship scheme which has provided a launchpad for many young people to move into fulfilling and rewarding careers in publishing and journalism. Naturally we are sorry that Amalia now feels it didn't quite work out for her.
"Our scheme remains constantly under review to ensure that it is fair in offering both opportunity and reward to as many people as possible. The pay of the company's current interns is compliant with all legal requirements, and with the terms of the national minimum wage."
Email pged@pressgazette.co.uk to point out mistakes, provide story tips or send in a letter for publication on our "Letters Page" blog