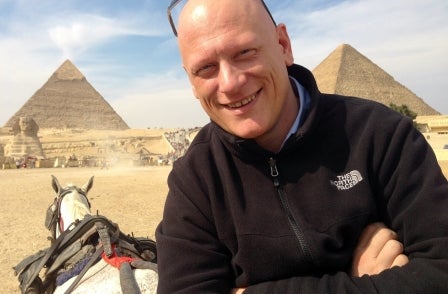 A British Al Jazeera journalist convicted in absentia over terrorism offences in Egypt has spoken out against the "burning sense of injustice" he and colleagues feel.
Dominic Kane, 41, who worked at the BBC for 11 years prior to joining Al Jazeera in 2012, was sentenced to ten years in jail last month along with British colleague Sue Turton and Dutch journalist Rena Netjes. His Al Jazeera colleagues, Mohamed Fahmy, Baher Mohamed and Peter Greste, are imprisoned in Egypt and have received jail sentences of between seven and ten years.
Speaking to Press Gazette, Kane, originally from Wales, emphasised that his three imprisoned colleagues are living in "horrible place… knowing the injustice that's been done to them", but told of the disruption to his life the sentence in absentia has caused.
He believes there are around 75 African, Middle Eastern and Gulf countries that he is not safe to visit – for fear that Egypt could successfully get him sent to Cairo. This has already restricted his ability to travel to Kenya for work, and Kane is also not able to visit the home country of his South African girlfriend.
Kane will also be largely avoiding countries including the United States, Australia and New Zealand, which have visa entry and will question him about being convicted of terrorism charges. The charges on all of these journalists relate to allegations of supporting the Muslim Brotherhood in Egypt, where it is recognised as a terrorist organisation.
And Kane said that unless the convictions are overturned he will always have a ten-year jail sentence in Egypt hanging over him.
"The fact that this sentence passed on us hasn't already started [means] it's not like in nine years and 11 months it's gone away," he told Press Gazette.
"Because we haven't actually surrendered ourselves to them and subjected ourselves to this sentence, that's there for the rest of our lives – unless there is a pardon.
"As things stand, this is there for the foreseeable future. So you can imagine that has a very considerable effect on A. one's psyche, and B. one's outlook for the future."
Kane went to Egypt for the first time last October on a tourist visa rather than declaring himself as a journalist – as was the "standard procedure". He left for 24 hours at the end of the month-long visa and then returned until the beginning of December.
He was planning on returning to Egypt in the "not too distant future" before he learned of his arrest in absentia at the end of December. He was charged the next month and then convicted at the end June. 
Speaking about the time of arrest, Kane said: "I don't think I can recall in the few days prior to the arrests any suggestion from the guys that they thought that their immediate liberty was at stake… that's not to say there wasn't the sense that something bad could happen – because clearly there was.
"There were times when we'd go in the street and my cameraman would say to me: 'Dominic, whatever you do, don't say the words Al Jazeera… don't pay off saying "Dominic Kane, Al Jazeera". Because if anyone hears that there'll be a lynch mob.'
"And at least once I had to do it, and I was very aware that it was going to be one take and I had to get out of these as quickly as possible for the very real fear that something untoward would happen."
After the arrests, Kane and colleagues had hoped the Egyptian authorities would compromise. "We thought to ourselves, well, hopefully the fact that we're an English language news organisation would mean that someone sensible in the upper echelons of the Egyptian authorities will just look at the sorts of things we were doing, the packages that we were doing, and the live reporting, and say: 'Really? They're not terrorists. Look at what they're doing.  These people worked for CNN, the BBC, ABC News and that sort of thing.'
"We thought that there would be some sort of middle ground that could be found."
During the trial Kane said that the defence was not given the opportunity to respond to allegations or put sufficient evidence to the court. He also criticised the court for failing to distinguish between Al Jazeera English, which he works for, and Al Jazeera's Arabic arm, which has a "different editorial agenda".
Kane said: "It has felt like a roller coaster ride at some points. Because obviously in the first instance these are friends of mine who I worked with every day of the week for nine weeks in the autumn of last year.
"So to know that they were held in these horrible places and subjected to solitary confinement with not much food, that Fahmy had a dislocated shoulder and was having to sleep on the floor with lice and cockroaches and vermin crawling around him… I mean, that's horrible. It's so terrible."
On the run-up to the trial, he added: "When you hear the court is convening, you think to yourself – if you come from our country anyway, which is based on the rule of law and order – that… once there's a sort of bona fide legal situation that there are certain rights that you have, and responsibilities that the government has to go through.
"So we were thinking, right we'll get the chance to give evidence, to cross-examine, and we'll be able to expose this case for the farrago that it is. But that never really came true."
Kane has been told that the way to free himself of the sentence hanging over him is to travel to Egypt, go to prison and launch an appeal. But he said he will not be doing that.
Kane and his colleagues, including Turton, now see their jobs to stay free of the Egyptian authorities and "bang the drum" to fight for the freedom of his colleagues.
 "We are all just journalists," Kane said. "Nothing more. Nothing less. And we feel a real burning sense of injustice."
Email pged@pressgazette.co.uk to point out mistakes, provide story tips or send in a letter for publication on our "Letters Page" blog