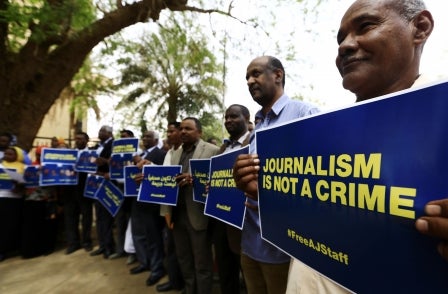 Al Jazeera has filed a legal action against the state of Egypt as it fights government action which has seen its journalists jailed and its operations shut down in the country.
Lawyers for the Qatari-owned broadcaster told the government in Cairo today that they would be seeking $150m (nearly £90m) in compensation.
Law firm Carter Ruck said that if the matter is not settled within six months, Al Jazeera, which has been operational in Egypt since 2001, will refer the matter to international arbitration.
In recent months a number of Al Jazeera journalists have been "subjected to harassment, arrest and detention" (protesters pictured: Reuters), its offices have been "attacked by the military, police and gangs" and its "licence to broadcast in the country has been cancelled". Carter Ruck also highlighted the fact its Egypt branch has been "subject to a compulsory liquidation procedure".
Al Jazeera has been accused by the government of being biased towards the Muslim Brotherhood, which is now outlawed in the country.
Al Jazeera journalists Peter Greste, Mohamed Fahmy and Baher Mohamed have been in held in jail in Egypt for more than four months since their arrests on charges of spreading false news and aiding the Muslim Brotherhood.
The compensation is being claimed under the 1999 investment treaty between Egypt and Qatar which "requires that investors be afforded fair and equitable treatment by the governments of both countries and provides other enforceable rights, including an obligation on Egypt to afford Al Jazeera's investment full protection and security and not to take measures which amount to expropriation without payment of adequate compensation".
A spokesman for the broadcaster said: "Al Jazeera cannot permit this situation to continue.
"Egypt has severely disrupted Al Jazeera's business activities in Egypt and has expropriated Al Jazeera's investment without compensation. Egypt is in breach of its obligations under international law, including its obligation to respect the right of journalists to report freely, which is reaffirmed by UN Security Council Resolution 1738 (2006).
"However, the military regime in Egypt has disregarded this fundamental right and seems determined to prevent any independent media outlet from doing business in the country, leaving only the voices of its own state-controlled media to be heard".
They added: "Al Jazeera has served this Notification of Dispute to protect the right of foreign broadcasters to do business in Egypt and also to stand up for its journalists and the rights of all journalists to operate freely in Egypt, without fear of arbitrary arrest, assault, jamming or other forms of harassment and intimidation. In the meantime, we call upon the United Nations and all of its Member States to ensure that Egypt fulfils its obligations under international law."
Cameron Doley, a senior Carter Ruck partner, told the Financial Times: "A media entity is a commercial entity like any other. If your business is wiped out in a given country it doesn't matter if you are Al Jazeera, the FT or a manufacturer of car parts – you suffer the loss of your investment."
Email pged@pressgazette.co.uk to point out mistakes, provide story tips or send in a letter for publication on our "Letters Page" blog