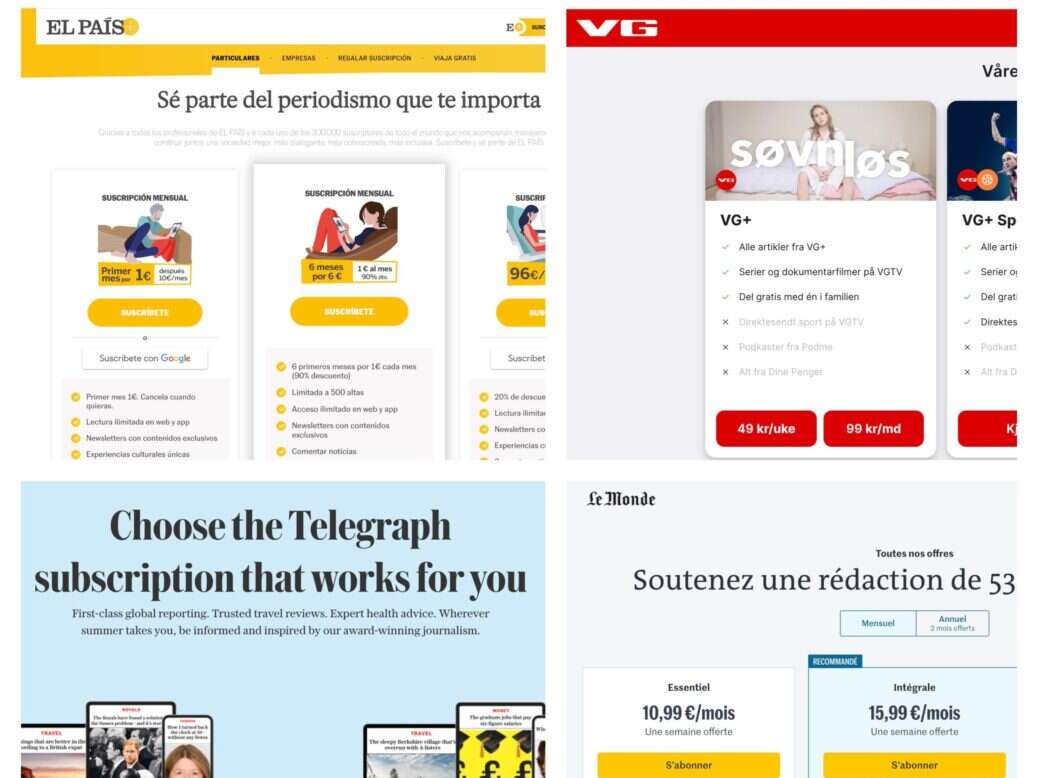 Consumers have come to expect discounted trials and introductory offers when signing up to news brands.
While some publishers such as niche business to business titles or "purpose driven" publications such as investigative outlets don't always offer trials, deep discounting is a key way in which most publishers, including some of the market's most successful subscription businesses such as The New York Times and The Telegraph, lure in new subscribers.
"Publishers offer those trials simply because they fit their strategy to maximise the market share and these trials are effective," says Greg Piechota, a researcher at the International News Media Association (INMA). According to INMA one of the characteristics that sets apart brands with the fastest subscription and revenue growth is deep discounting.
But the economic climate, says Piechota, is not what drives discounts. "Most publishers sell to the heavy users of news and these tend to be more affluent than the rest of the population and they are likely less affected by the rising inflation and prices."
Data suggests that the subscription market still has room to grow, contrary to concerns that we might have reached peak subscription. A recent INMA survey found that the median news brand saw digital subscription volume grow 14% and revenue grow 16% year-on-year in the first quarter of this year. In this context it makes sense that publishers are focused on maximising market share through trial offers, says Piechota.
INMA research found that 86% of the top 50 news subscription brands offered trials in the first half of this year – an increase of 26% versus last year.
Another study in June by media intelligence company Toolkits looked at the 100 most popular subscriptions in the US and found that the average promotional price had come down by more than 40% in the previous 12 months.
Polling by Yougov earlier this year found that cost is the most important factor when consumers are deciding whether to pay for an online subscription. Around four in ten Britons (39%) and Americans (42%) reported being tempted by a lower paywall price.
Press Gazette wanted to understand what kind of subscription trials publishers are using in the UK and rest of Europe. We looked at 60 subscription publishers with at least 25,000 digital subscribers (according to membership association FIPP's Global Digital Subscription Snapshot) to find out who discounts, how common discounting is, how long trials last and what kind of deals they offer. (Scroll down to see the full table).
A note on our methodology: Data was collected by looking at publisher websites on 4 September 2023. Where a number of options were available we looked at the price for a standard digital subscription paid for monthly. For publishers only offering the option to pay for a year, we divided the annual cost into its monthly equivalent.
Since publishers may change offers over time or tailor offers to readers, the data is meant to provide a guide to trends rather than act as a definitive price list. In Europe less than 50% of subscriptions are sold on personalised prices according to Mather Economics.
Subscription trial offers at news publishers analysed
Of the 60 publishers we looked at, 11 did not offer some kind of introductory offer to new subscribers. Among them were Swedish daily Svenska Dagbladet and the Financial Times, which did not offer any kind of introductory period for its £35 a month standard digital subscription. (The FT's premium bundle, however, came with a four-week trial).
Other publications without a trial offer included membership and "mission-led" outlets such as De Correspondent in The Netherlands and Swiss investigative magazine Republik, which both launched through reader crowdfunding campaigns.
Among the nine UK titles in our list, seven including The Telegraph, The Times and Sunday Times and Mail+ had introductory offers.
Liesbeth Nizet, managing director at Mather Economics Europe, says there is no one tried and tested formula when it comes to what works in subscription discounting. "Everyone is testing and trying to learn from each other," she says. "There is no playbook for digital acquisition like there is more or less for retention."
Free trials were uncommon, although there were seven exceptions in our list. Some of these, such as Tortoise, only offered a free trial to people who took out an annual subscription, while others such as Le Monde in France offered a free week but required customers to provide payment details. Instead it was much more common to ask customers trialling a product to pay - even if just a token amount such as £1 or €1.
"A few years ago a lot of European publishers were offering free trials but only a few of them still do," says Nizet. "If you look at [free trials] from a monetisation point of view, the sooner you can start a paying relationship with the customer, the better, even for a (sometimes very) small amount. Giving the subscription for free might create the impression that it has less value."
Over the course of the first year we found that most subscribers would save less than 15% taking into account the depth of the saving and its length.
Just 15 titles, including Germany's Bild+, Spanish digital-only title El Español and The Telegraph, offered a saving of at least 50% off the full price over the first year.
Longer trials build a reading habit
Newsbrands such as The Boston Globe and New York Times have popularised the idea of offering audiences longer subscription trial periods.
While European publishers have moved away from the two or three trial prices being offered several years ago, one-year trials are usually appropriate, says Nizet.
"Three-year engagements have now shifted more to one year, and that's something that you see in the UK market and in the EU market. One year is more or less the tipping point as it is enough to create a habit so that people still won't churn, but if you put them on a three-year contract on a discounted price, it's very, very hard to get them to full price afterwards," she says.
Among the titles in our sample, we found a roughly even split between those offering trials of a month or less (23 titles) and trials of at least one year (19 titles) with the remainder falling in between.
Even among one-year trials, however, we found few publishers were willing to lock customers into a one-year contract, with all but a handful (among them The Irish Independent) offering customers a monthly option. Instead many titles (37) offered a bigger discount to customers signing up to one-year contracts in order to try and entice them to sign up for longer period.
According to Piechota, long, discounted trials speed up acquisition, help publishers to "onboard" new readers and raise the odds that readers will form a habit of reading regularly. These readers who are brand-aware and engaged are more likely to renew and accept later price increases. They are also less likely to quit since frequency of visits is the single biggest predictor of renewal.
Piechota adds that, on average, half of new subscribers cancel in the first three months after subscribing while readers who visit a site four or more days in a month are less than half as likely to cancel a subscription.
The last 100 days of an annual trial are hugely important, Nizet says.
"If someone for example has a one-year subscription that they need to renew, how do we start 100 days before with seeing how engaged they are? For example, by sending a note from the editor-in-chief based on what they've read or what you know their preferences are. You need to try find that sweet spot to make sure that they are fully prepared to renew at that point."
Email pged@pressgazette.co.uk to point out mistakes, provide story tips or send in a letter for publication on our "Letters Page" blog