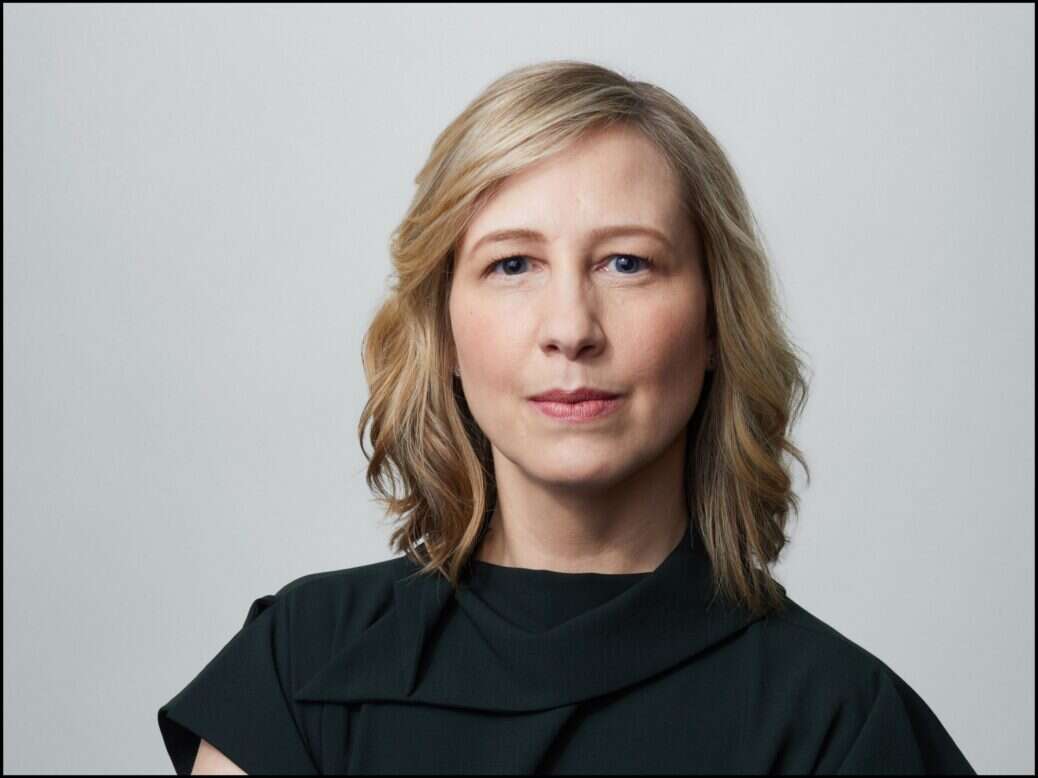 The opinion editor of The New York Times, Kathleen Kingsbury, says the paper has metrics on which columnists drive the most subscriptions – but she doesn't use them to decide who to commission next.
Speaking to Press Gazette in London last week, Kingsbury spoke about the economics of opinion journalism, whether she would publish an essay by Donald Trump and how the US paper of record is approaching making an endorsement in next year's presidential election.
The economics of opinion: adding something 'invaluable' for the reader
Kingsbury was in London to see her team of "eight to ten" staff in the city – although she noted she was "always recruiting new writers, so that's another part of the visit".
Globally, the New York Times opinion section employs some 150 people, triple its size in 2017 when Kingsbury joined The New York Times as deputy editorial page editor. 
Asked about the business case for that investment, Kingsbury said columnists were "one of the best tools" the publisher had for reader retention.
"Because people develop a habit. Sometimes they develop almost a personal relationship because they've read someone for so long."
The opinion section's content is also good for reader engagement: "It'll be no surprise that our opinion pieces get the most comments at the Times," Kingsbury said – but she would "hesitate to suggest there's a direct correlation between revenue and opinion journalism… It's just another form of journalism that really does resonate with readers."
If the news side's job "is to report the news independently and impartially," Kingsbury explained, "our role is to help our audience understand the forces in the world and help them ​​develop their own opinions, clarify their thinking and in some cases, help them understand how they should feel about the news".
This sort of service, she said, "can be really invaluable to the audience".
No need for numbers
Some paywalled publishers today use sophisticated tech to figure out which types of content drive the most subscriptions – and The New York Times has the most digital news subscribers of any publisher in the world. But asked whether The New York Times knew which columnists drove the most sign-ups, Kingsbury said: "I mean, we have those numbers, but we don't use them…
"I feel extremely lucky – I don't have pressure around metrics in any way."
In which case, how did New York Times publisher AG Sulzberger measure Kingsbury's success?
"I think it's about having a range of different viewpoints in the pages," she said. "We've heard from readers that they want pieces that challenge them, and so I know that that's something that's important to him."
She thought the things Sulzberger was measuring in her performance would be more like "maintaining a healthy culture, being a good manager, maintaining our values when it comes to things like DEI [diversity, equity and inclusion]… But you know, editorial excellence is really at the heart of all of that".
The New York Times opinion section includes the newspaper's staff columnists, newsletter writers, the editorial board and the NYT guest essay operation (previously known as op-eds).
It also includes opinion video, a part of the Times which publishes somewhat experimentally outside the paywall with a view to reaching otherwise-untapped audiences. It secured The New York Times its first-ever Oscar last year, awarded for 20-minute documentary The Queen of Basketball.
[Read more: Oscars, CGI and Jonathan Pie – Inside The New York Times' award-winning Opinion Video department]
Would The New York Times publish an essay by Donald Trump?
Kingsbury reports to Sulzberger, rather than New York Times executive editor Joe Kahn, who leads the news side of the editorial operation.
"We have no coordination between our news side and opinion from an editorial standpoint," she said. Although the two share some administrative functions, Kingsbury said that even when opinion is about to break a major news story, "the news side doesn't get a heads up".
"Occasionally, when there is a piece that has a sensitivity around it that could risk our journalists on the ground in a place, we will have a conversation about that ahead of time" and potentially let them know, she said – but those decisions are made by Kingsbury, Sulzberger and NYT deputy general counsel David McCraw, not Kahn.
Kingsbury estimated the opinion section gets "at least 1,000 pitches a day" – but said they do read them.
"I have no idea if this is actually accurate," she said, "but there's often the joke that it's harder to get published in The New York Times opinion section than to get into Harvard." (The undergraduate admission rate for Harvard was 3.41% this year. In comparison, the NYT published 113 guest essays in September, less than 0.4% of the minimum 30,000 pitches it will have received if Kingsbury's estimate is correct.)
Kingsbury added the section gets "a lot of interest from lawmakers and politicians who would like to write for us… 98% of the time, the answer is no."
There have been exceptions: for example in March 2022 the paper published Boris Johnson, then still prime minister, calling for support for Ukraine early on in the Russian invasion. Kingsbury said the paper had also "not published other UK politicians" who hadn't met its accuracy standards, though she didn't say who exactly had been rejected.
Asked what she would do if Donald Trump pitched a guest essay, Kingsbury said: "Of course we'd consider it. It depends on what he'd have to say. And also, frankly, if it passed our fact-checking process." The opinion section has more than a dozen fact-checkers, the largest such team at The New York Times.
Asked whether there were any views The New York Times would never publish, Kingsbury said any piece has to meet "three bars": it must be accurate, the author must not have any conflicts of interest and it cannot be "something we believe is hate speech".
"I have the best team of editors on the planet," she said. "And I rely on their judgement and their knowledge and their expertise.
"If it passes those three tests, and I have an editor who believes firmly that it's something that our readers need to know or if it's a writer has something interesting to say, I'd rather lean in the direction of trying to publish…
"I think we're a place that's meant to explore ideas and elevate debate and discussion and look around the corner and tell you what you need to know about what's coming in the future."
What constitutes something like hate speech is itself a fraught subject, however. Kingsbury said she wasn't inclined to draw "hard and fast lines" about definitions.
"So for instance, one of the questions that I'm often asked, is: would you ever run a piece that was advocating violence?
"My gut reaction to that is no. That said – as an editorial board, we've supported wars."
'If you think your employer is doing something wrong, I can understand the instinct to want to criticise it'
The New York Times opinion section has been at the centre of some high-profile controversies in recent years. It was an article from the opinion side that prompted Sarah Palin to (unsuccessfully) sue The New York Times for defamation. A storm of criticism internally and externally over an article by Republican Senator Tom Cotton during the 2020 Black Lives Matter protests – calling on the US government to "send in the troops" to quell unrest – led Kingsbury's predecessor, James Bennet, to resign his role.
Then, earlier this year, hundreds of current and former New York Times contributors signed an open letter criticising the paper's work on gender-affirming healthcare for young trans people. LGBTQ advocacy group GLAAD sent a letter the same day criticising the Times over the same matter, singling out the opinion section's new conservative columnist David French for particular ire.
Kingsbury and Kahn wrote back in an internal memo to staff that they "do not welcome, and will not tolerate, participation by Times journalists in protests organised by advocacy groups or attacks on colleagues on social media and other public forums".
Asked about the row, Kingsbury said: "I would stand by any of our coverage on this issue."
"Our journalists who were doing that kind of coverage were facing harassment," she added. "Their families were being targeted, they were trying to do what we saw as very important work and facing pretty significant consequences for it. So the impetus behind the note that we sent was more around collegiality and supporting your colleagues and frankly, security, to a certain extent."
Press Gazette asked whether Kingsbury thought a journalist could ever be justified in criticising their publication.
"If you think your employer is doing something wrong, I can understand the instinct to want to criticise it," she said.
"That said, I think that we have extremely challenging jobs as journalists right now. The external threats to journalists in the United States, but abroad as well, are so intense that anything that you do that undermines your colleagues' credibility – but also, frankly, jeopardises the trust that's needed to do this hard work – is less than ideal…
"There is a need to really count on each other. And undermining that trust is something you should not take lightly."
But separately, asked who she wanted better represented in the opinion pages, Kingsbury said that the Times had been "very, very actively engaged with a variety of groups for bringing more voices on trans issues into our pages".
The choice: to endorse or not to endorse?
The New York Times has endorsed a candidate for president in every election since 1852, and in several Republican and Democrat primaries since the year 2000. In 2020, as deputy opinion editor, Kingsbury was put in charge of the primary endorsement process – which unusually recommended two people, senators Elizabeth Warren and Amy Klobuchar, for the Democratic nomination.
Kingsbury's endorsement process was also unusual because it was recorded, with the NYT releasing transcripts and video excerpts of its editorial board's interviews with the presidential hopefuls. She told The Washington Post subsequently that she hadn't made up her mind on whether taping the interviews had been the right choice.
Asked by Press Gazette what plans The New York Times had for "The Choice" in the 2024 election cycle, Kingsbury said: "I think the thing we learned was how valuable transcripts are… That was the part of the 2020 process that we saw incredible engagement with."
But in the 2024 primaries, the Times may not endorse any candidates at all, she said.
"The dynamics of the race are really, really different than what we would expect," she explained, citing the indictment of Republican frontrunner Donald Trump.
"We're thinking pretty deeply about how to add the most value, and we just haven't made any final decisions yet."
The ability of the paper to influence the nomination choices of Republicans may be limited: the paper is famously disliked by Donald Trump and synonymous to some on the right with the notion of one-sided, fake news.
So is there a liberal bias at The New York Times?
"You'll be shocked to hear I get this question a lot," Kingsbury responded.
She said that the NYT's editorial board was "unapologetically liberal", something that "comes from long-standing precedents, but it also comes from long-standing values that are set in conversation between me and the publisher". She stressed that she meant it was liberal "in the most classic sense of the word, as opposed to 'progressive'".
"But we pride ourselves on our independence, and I say that both from the opinion perspective, but of course, [also on] the news side. 
"From an opinion perspective, I talk a lot to my team about the fact that we're going to run pieces that we agree with [and] we're going to run pieces that we disagree with as editors.
"Our job is to make sure we're curating everyday the richest conversation around the most important ideas and debates in the world."
Email pged@pressgazette.co.uk to point out mistakes, provide story tips or send in a letter for publication on our "Letters Page" blog