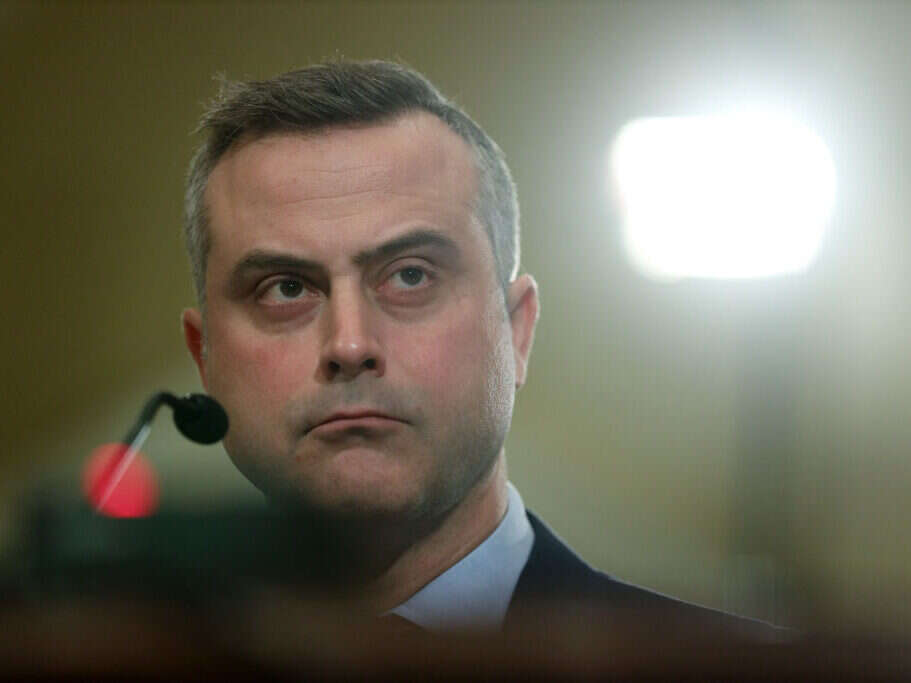 The chief executive of Dominion Voting Systems has said the high threshold in the US for proving defamation by a media outlet should remain in place despite his experiences battling Fox News.
Speaking on Wednesday about his landmark libel settlement with Fox News, John Poulos also explained why his voting technology company ultimately decided not to bring the case to trial.
Fox and Dominion agreed to the $787.5m settlement immediately before a trial was due to begin. Dominion alleged Fox defamed the company by repeatedly airing false claims its voting machines artificially swung the 2020 presidential election for Joe Biden.
Poulos made his comments during an interview by Globe and Mail editor David Walmsley at the inaugural Sir Harry Summit in London.
The beginning of the interview was delayed by a few moments because of sustained applause from the crowd of several hundred people, most of them media professionals. It was the most rapturous reception of any speakers at the summit – with the exception of Watergate journalists Bob Woodward and Carl Bernstein who received a standing ovation towards the end of the day.
interview with dominion voting systems CEO john poulos hasn't even started and safe to say he appears to have the support of the #sirharrysummit room pic.twitter.com/1FvAhZsK8C

— Bron Maher (@Bron_Maher) May 10, 2023
Poulos told Walmsley the case had been "completely surreal for us" and that litigation "was literally the last thing we could do".
"We were receiving hundreds of phone calls, most of them death threats, very detailed…
"We wrote letters of retraction… We had sent literally thousands of documents. We had pointed all of the characters that were defaming us to the Attorney General, we had pointed them to the Department of Homeland Security, bipartisan election officials. We pointed them to the fact that we had over 1,000 hand recounts of paper ballots.
"So it was never really about not knowing the truth."
[Read more: Fox News v Dominion and the biggest libel payouts in history]
To have won its case against Fox, Dominion's lawyers would have needed to demonstrate not only that Fox aired falsehoods about the company but that it did so knowingly. This requirement to establish "actual malice" was laid down in the landmark New York Times Co v Sullivan Supreme Court case, and makes it extremely difficult to successfully sue a news publisher for libel.
But asked by Walmsley whether he thought NYT v Sullivan set too high of a standard for media defamation cases, Poulos said: "Personally I don't. I think that the standard should be fairly high.
"I think that we – and this is just my opinion, just one person's opinion – but I think that we rely on the media to hold our government to account, public officials to account, institutions to account.
"And to make a mistake in the pursuit of the truth, I think, happens. But it's incumbent on those media institutions to recognise when that happens."
Poulos also said he was not concerned that the trial would negatively affect First Amendment protections for publishers.
"I'm not a First Amendment scholar by any means. But the First Amendment, from what I know of it, does not give anyone the right to lie, and knowingly lie, and defame people. That's the whole point of why there's defamation law."
Despite the high bar, commentators suggested that Dominion had an unusually strong case against Fox. The judge in the case, Eric M Davis, had already ruled ahead of the trial that Dominion proved the claims under dispute were false.
[Read more: Why a lack of 'actual malice' scuppered Sarah Palin's New York Times libel suit]
'A protection that I hold dear'
During an earlier session at the Sir Harry Summit discussing the UK's status as "libel capital of the world", New Yorker writer Patrick Radden Keefe described the actual malice standard as "a protection that I hold dear".
The investigative journalist said that "there is a movement afoot to try and overturn the Supreme Court precedent that established the actual actual malice standard.
"There are lawyers who would like to see some [media libel] case make its way up to the Supreme Court. And with the current Supreme Court it's anyone's guess how that might work out."
News UK deputy general counsel Pia Sarma agreed with Radden Keefe, saying "that's a huge threat".
"This country looks over there and goes, well, they've got this constitutional First Amendment, plus they've got New York Times v Sullivan, the great case – and it's under attack right now in a really serious way." Sarma separately said the UK remains the "libel capital of the world".
Why Dominion settled its libel case against Fox News
Poulos said Dominion's legal fees in the Fox News case ultimately escalated from millions to "tens of millions of dollars a month", and that on the eve of the trial: "I couldn't wait for the opening statements."
But he said the following day his lawyer "slid a piece of paper across" to him "and it had a number on it with a yes or no".
Poulos said he weighed the effect that a trial "would have on all of my people and our customers", as well as that the Delaware Superior Court, where the case was being litigated, refused to admit audio or video clips as evidence.
"The judge made that very clear," Poulos said. "He went even so far as to say that he checked with the Supreme Court in Delaware – it's never happened.
"So there was no video, which I think a lot of people don't understand. There wasn't even going to be rebroadcasting of any of the audio transcript. So really, it was just… the already written record that we had put forward in our court filings."
Poulos added that he "never really doubted whether or not we would go and get the right verdict…
"It was just a matter of: is the number going to be higher than that or lower than that?"
That $787.5m figure, he said, was just above the valuation of Dominion heading into the 2020 election.
"And ultimately, when I spoke to my partner about it, we just felt that that is a very big price to put on truth in journalism. And it's probably not a bad precedent."
Poulos also disclosed that Fox wired Dominion the settlement before he had even left the courthouse.
"That's when it kind of hit home for me. I put myself in the position of a board seat [at Fox]. You know, they must have been told regular updates on this case for the last two and a half years. And I would have loved to have been a fly on the wall when they were called together to approve that wire."
[Read more from the Sir Harry Summit: Former Fox CEO Barry Diller calls Dominion case a 'stain' on Rupert Murdoch's reputation]
Email pged@pressgazette.co.uk to point out mistakes, provide story tips or send in a letter for publication on our "Letters Page" blog