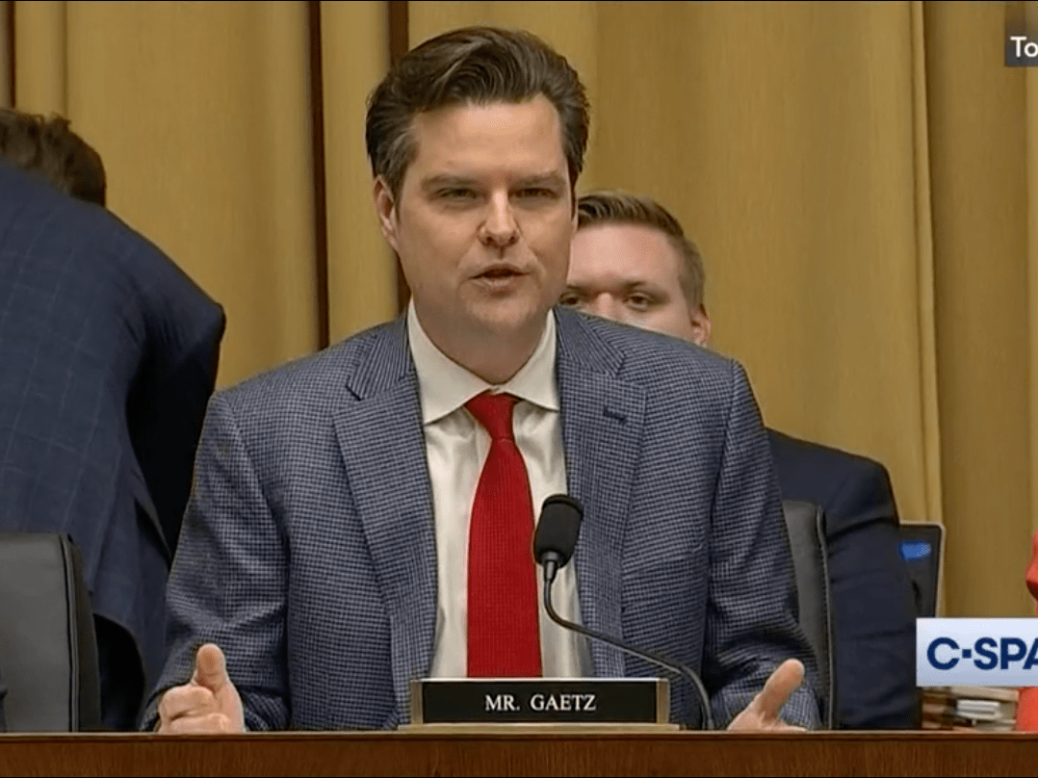 US congressman Matt Gaetz has called for a House of Representatives subcommittee to investigate media watchdog Newsguard.
Gaetz, a Trump-aligned Republican, made the comments after a hearing about the so-called "Twitter Files", alleging that Newsguard drives ad revenue away from certain outlets and toward others deemed more favourable.
Newsguard assigns scores to news sites based on their credibility and transparency. It has previously made headlines for giving failing grades to outlets including the Daily Mail, Fox News, The Daily Beast and MSNBC – although all but MSNBC now score at least 60 out of 100 points. (Note: the author of this article previously worked as an analyst for Newsguard.)
Thursday's hearing before the House Judiciary Select Subcommittee on the Weaponization of the Federal Government centred on allegations Twitter censored certain users at the suggestion of US government bodies.
Matt Taibbi, the former Rolling Stone journalist who now publishes on newsletter platform Substack, told the subcommittee that in the course of reporting the Twitter Files story: "We learned Twitter, Facebook, Google and other companies developed a formal system for taking in moderation requests from every corner of government, from the FBI, the DHS, the HHS, DOD, the Global Engagement Center at State, even the CIA.
"For every government agency scanning Twitter there were perhaps 20 private entities doing the same thing, including Stanford's election integrity partnership, Newsguard, the Global Disinformation Index, and many others, many taxpayer-funded."
The Twitter Files are internal documents from the platform which were published by new owner Elon Musk shortly after he bought the company. They focus on how Twitter came to ban Donald Trump from Twitter, how the organisation handled the New York Post's Hunter Biden laptop story and the mechanisms it had for making certain accounts less visible.
Newsguard predominantly generates revenue by licensing its reports and data for brand safety purposes – for example, the creation of lists of sites on which companies can advertise without needing to worry about appearing alongside inaccurate content.
The company is not explicitly taxpayer-funded, but does have US government bodies among its customers. Its co-chief executive, Gordon Crovitz, told Press Gazette Twitter has not been one of its customers, however.
Taibbi charged that "a focus of this fast-growing network… is making lists of people whose opinions, beliefs, associations or sympathies are deemed 'misinformation', 'disinformation' or 'malinformation'…
"Ordinary Americans are not just being reported to Twitter for de-amplification or de-platforming, but to firms like Paypal, digital advertisers like Xandr, and digital crowdfunding sites like Gofundme.
"These companies can and do refuse service to law-abiding people and businesses whose only crime is falling afoul of a distant, faceless, unaccountable algorithmic judge."
Another Twitter Files author testifying at the hearing, Michael Shellenberger, termed this alleged dynamic as the "censorship-industrial complex".
Representative Gaetz, who sits on the weaponisation subcommittee, commented: "What I'm used to in this town is government officials pick their favourite outlets and they give them the best scoops and they give them the best stories, and there's a fusion of media and government that has long made me uncomfortable.
"But what you're describing now is literally the directing of revenue to certain media companies over other media companies, designed and implemented with US government funding and support."
He subsequently tweeted: "Newsguard is a US government-backed entity that literally drives ad revenue away from media companies to other media companies that are considered more 'favourable.' The Weaponization Subcommittee must investigate Newsguard!"
Press Gazette has previously reported on how Newsguard's partnerships with ad networks meant news websites could take a revenue hit if they fell afoul of the company's ratings process. 
[Read more: News websites rated 'red' by Newsguard could miss out on ad money after agency deal]
Asked for comment, Crovitz forwarded Press Gazette an email he sent Taibbi following his appearance before Congress.
Crovitz wrote in the message: "As is public, our work for the Pentagon's Cyber Command is focused on the identification and analysis of information operations targeting the US and its allies conducted by hostile governments, including Russia and China.
"Our analysts alert officials in the US and in other democracies, including Ukraine, about new false narratives targeting America and its allies, and we provide an understanding of how this disinformation spreads online. We are proud of our work countering Russian and Chinese disinformation on behalf of Western democracies."
Crovitz went on to say Newsguard has assigned critical ratings to sites from across the political spectrum and insisted the organisation carries out its work transparently: "Silicon Valley algorithms don't call for comment. We always do.
"Rather than government censorship of content online, we believe readers should have the information they need about sources of news they see online so that they can make up their own minds about which sources they choose to trust."
Crovitz told Press Gazette Taibbi was yet to respond to the email.
Gaetz and Taibbi are not the first to criticise Newsguard on free speech grounds. Last year Newsguard revised Fox News' score down from a narrow overall pass to a narrow fail, prompting the cable news channel to blast the fact-checker as "a for-profit organisation operating under the guise of an objective public service".
Conservative video outlet Prager U has similarly blasted Newsguard as "the political elite's tool for censorship". And when Mail Online was, for a period, given a failing grade by the company it described the assessment as "egregiously erroneous". (That grade was subsequently revised up.)
The company has now dropped its pass/fail system, instead listing each site's score, but its customers can still customise their advertising whitelists to include or exclude sites depending on their Newsguard score.
Email pged@pressgazette.co.uk to point out mistakes, provide story tips or send in a letter for publication on our "Letters Page" blog