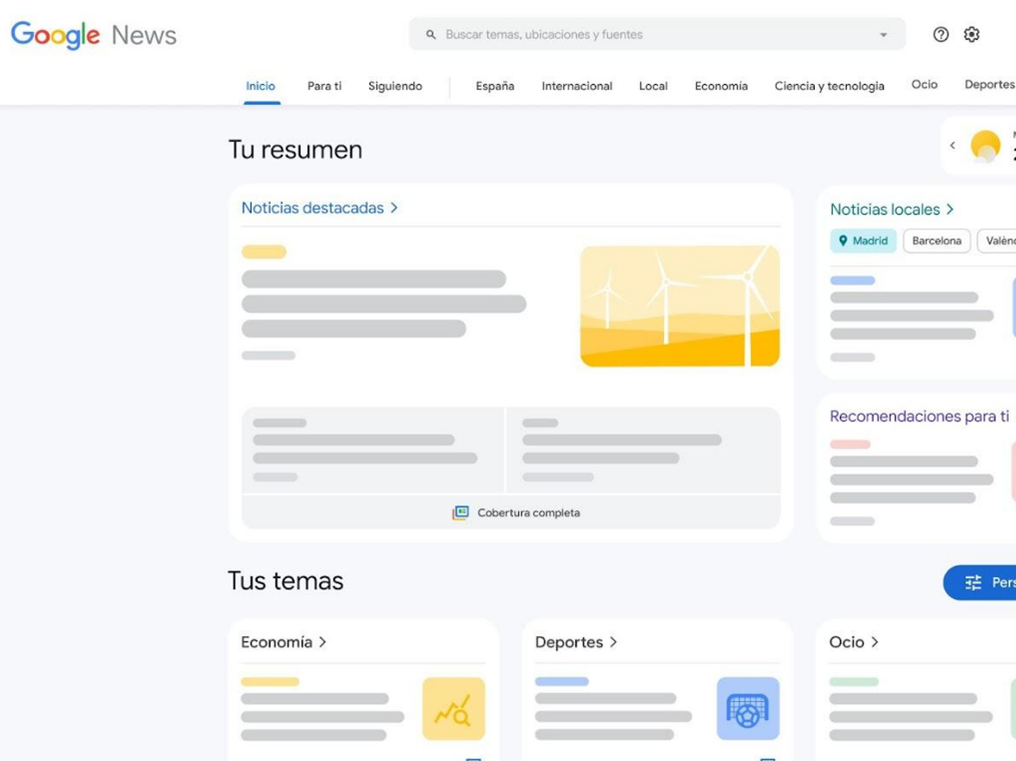 Google News is relaunching in Spain almost eight years after it shut down to avoid paying publishers when the country introduced a new copyright law – amid a wider redesign of the platform to mark its 20th birthday.
The site attracts some 500m visits a month worldwide, according to Press Gazette's ranking of the world's top-50 English language news websites.
Why is Google News returning to Spain now?
The platform's return to Spain comes after the country adopted a European Union copyright directive in November. That law allows online aggregators and platforms to use news "snippets" without permission from publishers if it is a "very short extract" or "individual words".
This supersedes copyright law adopted by Spain in 2014 that allowed publishers to charge services like Google News to use their links and headlines.
The tech giant instead closed Google News in the country, saying the change was "not sustainable" because it did not advertise on news pages, meaning they made no money.
Despite fears this could have a significant impact on Spanish news publishers, the US News Media Alliance in 2019 published analysis showing overall traffic had gone largely unchanged.
Upon its return to Spain on Wednesday Google said it would be "working with publishers to reach agreements" and launch Google News Showcase, the aggregation service for which it has been signing cash-for-content deals with publishers in at least 15 countries, "as soon as possible".
Fuencisla Clemares, Google's VP in Iberia, said the law change had allowed "Spanish media outlets – big and small – to make their own decisions about how their content can be discovered and how they want to monetise that content".
She added: "We hope the return of Google News to Spain helps more people find the news they're looking for, from diverse, authoritative publishers of all sizes from Spain and beyond, and provides even more support to the journalists and publishers who work tirelessly to deliver the news."
In a separate blog post, Google said it hoped the return to Spain "helps more people find more news, from more places, and helps publishers find new readers".
Google News redesign
On Wednesday Google also announced a wider revamp of Google News, which turns 20 this year, that includes moving the local news section to the top of the page on desktop alongside top stories.
Currently, unless they specifically choose to click on local news in the left-hand tab, UK users have to scroll past sections entitled "Headlines", "For you", "United Kingdom" and "World" before seeing a local news widget.
Google has also revamped the "Fact check" section on the right-hand side of Google News on desktop to "provide more context". It previously showed only headline links, the publication and the day of publication but will now give users the original claim alongside the fact-checked assessment from independent organisations.
Other new desktop features include the ability to customise what topics appear.
Google is often criticised for its dominance over the online ad industry alongside Facebook, reducing the size of the pie available to news publishers. However it also runs the Google News Initiative to support publishers around the world with training, funding and building innovative products.
Also on Wednesday Google opened applications for a new Global News Equity Fund which it said was a "multi-million dollar commitment to help bring more diversity and equity to the news industry". It is encouraging funding applications from independent journalists and small to medium-sized news organisations producing original news for minority and underrepresented audiences.
Picture: How Google News will look in Spain, via Google
Email pged@pressgazette.co.uk to point out mistakes, provide story tips or send in a letter for publication on our "Letters Page" blog