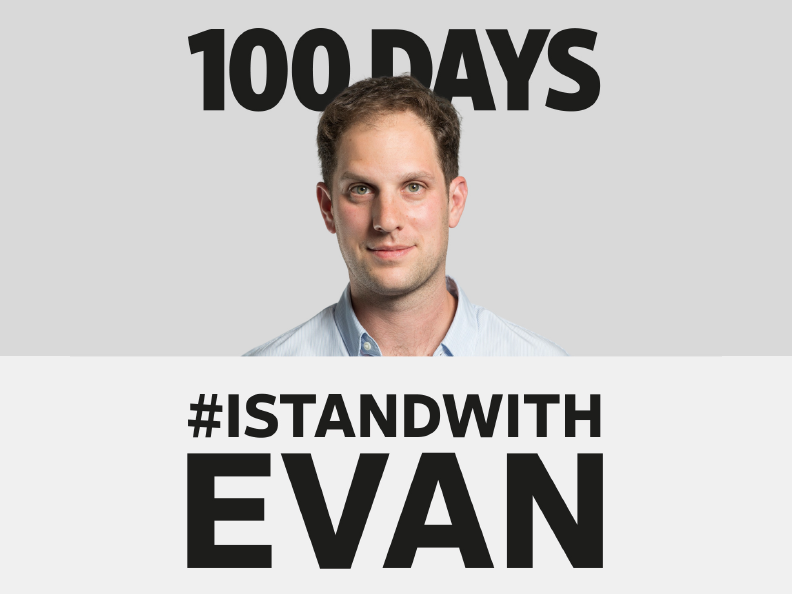 Wall Street Journal reporter Evan Gershkovich's detention by Russian authorities has entered its 100th day.
The American journalist was arrested on 29 March on charges of espionage while working for the paper.
Both he and employer News Corp strongly deny the charges, which WSJ editor Emma Tucker described this week as "a brazen attack on journalism and the free press".
News Corp has led a campaign to keep attention on Gershkovich's imprisonment, and on Friday was coordinating a flurry of social media activity to highlight the 100-day milestone.
Journalists and supporters were asked to take part in a "social storm" at 3.30pm BST and 10.30am ET on Friday by posting group photos with #IStandWithEvan t-shirts and signs, links to the WSJ's page about him, and pictures with the WSJ's Friday print edition which will feature a special wraparound for the campaign. (Social cards and other assets relating to the campaign can be downloaded here.)
Who is Evan Gershkovich?
Gershkovich, the son of Soviet emigrants to the US, was arrested in Yekaterinburg while on a reporting trip covering the mercenary Wagner group.
He began working for the WSJ in January 2022, the month before Russia launched its full-scale invasion of Ukraine. He had already been working as a journalist in Russia before that, having reported for The Moscow Times from 2017 to 2020 and then for AFP.
Gershkovich is said to be the first US journalist arrested in Russia since the end of the Cold War. He has twice appealed against his pretrial detention, and both times has been refused. The US government has said that it regards Gershkovich to have been wrongfully imprisoned.
After months with no signs of conciliation from Russia, this week Kremlin spokesperson Dmitry Peskov told reporters that "there are certain contacts [between the US and Russia] on this matter, but we do not want to make them public, they must be carried out and continued in complete silence", a statement some have said suggests the possibility of a prisoner swap.
In May the defence and diplomatic editor of The Independent, Kim Sengupta, told a Reporters Without Borders panel that he suspected "the only route out now [for Gershkovich] would be some kind of a prisoner exchange".
What has Wall Street Journal editor Emma Tucker said?
Tucker, who took over as WSJ editor in February, wrote to colleagues across the industry asking them "to keep Evan's story front and centre".
Tucker wrote: "All of us at the Wall Street Journal are moved by the show of support for Evan and his family from industry colleagues across the globe. Your assistance and news coverage are invaluable and deeply appreciated.
"People around the world see Evan's arrest for what it is – a brazen attack on journalism and the free press. What remains a worrying reality is that if this can happen to Evan, it can happen to anyone, and it affects reporters across all our organisations. Attacks on the press have far-reaching consequences – not just for journalism and media but for governments and democracies everywhere."
The BBC's Russia editor Steve Rosenberg told the NewsXchange conference in Dublin last month that Gershkovich's detention showed there was no way to safely report truthfully from Russia: "I try and say things how they are – if the authorities want to punish a journalist they'll find a way of doing this.
"Even if you follow the letter of the law, they'd say you got a comma wrong."
Marking the 100-day threshold, chief executive of the UK's News Media Association Owen Meredith said: "The wrongful detention of Wall Street Journal reporter Evan Gershkovich is a full-throated assault on the fundamental principles of free speech and democracy. The work of courageous journalists like Evan is critical to ensuring that we understand as fully as possible the war in Ukraine and its horrific impact upon people's lives.
"On this incredibly difficult 100-day milestone, we stand with Evan, his loved ones, and our colleagues across the global news media sector in calling for his immediate release. We all have a stake in this. Journalism is not a crime, and a free press is pivotal to maintaining a free society."
Email pged@pressgazette.co.uk to point out mistakes, provide story tips or send in a letter for publication on our "Letters Page" blog