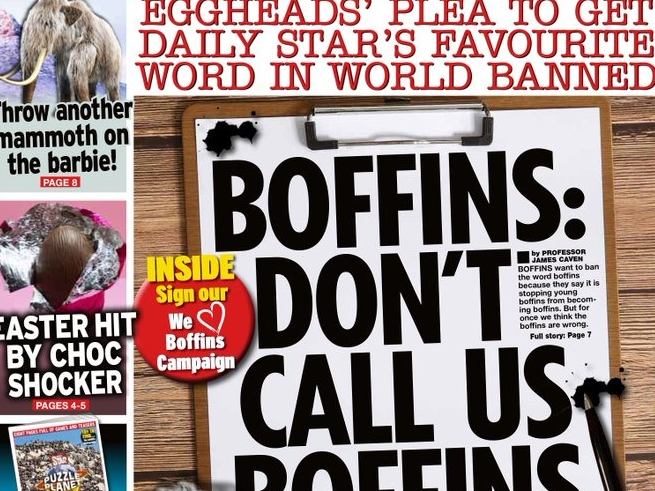 The word "boffin" is unhelpful, stereotypical, inaccurate, outdated and cliched according to the Institute of Physics, which has issued a call asking the media to stop using the word.
The organisation has in particular written to the editors of The Sun, Mirror and Star titles saying that an end to the "catch-all" term could create a more rounded and accurate picture of scientists and other experts – who are not, despite what many people think the word means.
But the Star has fought back, splashing on its opposition to the campaign and saying "the mega-brainiacs have got this one badly wrong".
Under a byline calling its journalist "Professor", the Star said boffin is often a term of endearment and its favourite word, quoting someone from the paper saying: "We bow to no one in respect of our boffins. But the berks have buggered it up with this Bin the Boffin befuddlement."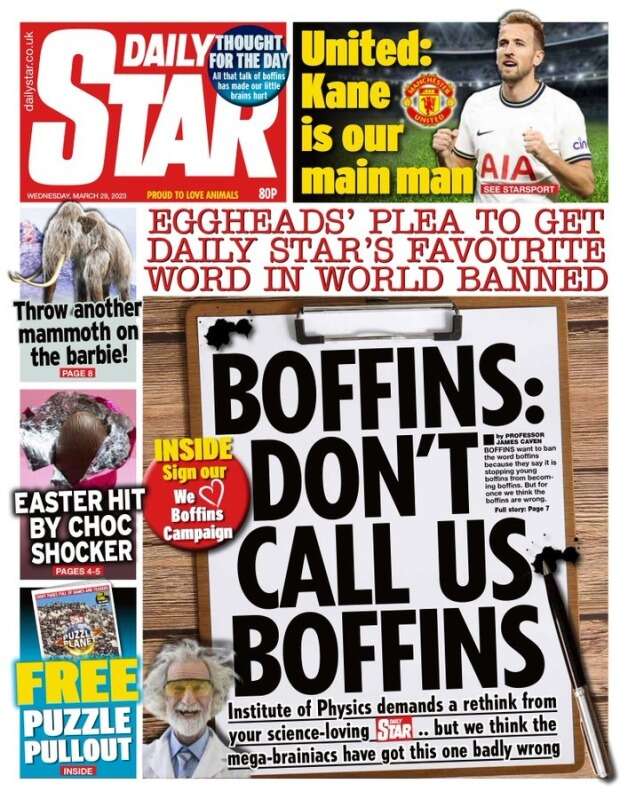 According to the IoP, the word boffin was used more than 400 times by the UK media in the first two months of 2023 across science, technology, entertainment and sport reporting.
The headlines it cited included: "Baldness could soon be cured after boffins discover the 'caveman' gene" and "Men who own flashy fast cars really have tiny dipsticks, boffins confirm" in the Daily Star, and "Boffins predict final Premier League table and Arsenal and Man Utd fans will be VERY happy but it's bad news for Chelsea" in The Sun.
Earlier this month the Mirror published the headline: "Dementia and MND sufferers given hope by Brit boffins' innovative nasal spray approach." Press Gazette understands that the word "boffin" has been on the title's banned words list since at least 1989 but appears to have occasionally slipped through the net. Editor Alison Phillips will now remind her journalists not to use it.
Boffin is one of a number of cliches journalists are urged to avoid using in the book Keith Waterhouse on Newspaper Style, which was first published in 1989 but which is based on the Mirror style guide he wrote in 1979 (see more at the end of this story).
The IoP's deputy chief executive Rachel Youngman said the term is used for anyone "with the slightest technical expertise" including racing tipsters, political pollsters, dermatologists, astrologers and car designers, as well as physicists, biologists and chemists, saying this was "baffling, cliched and our excellent journalists can do better". The term was popularised during World War Two as armed forces slang for research scientists.
Youngman added: "…we are asking three of our best-loved tabloids to set an example by dropping 'boffin' into the dustbin of journalistic history – we believe scientists should get the credit they deserve for their work instead of being lumbered with this confusing and stereotypical piece of tabloid slang".
Although the IoP has focused its appeal on tabloids, a range of news organisations use the term boffin: for example, The Economist (AI boffins), The Times (assembled [philosophy] boffins) and the Financial Times (boffins at Brookings) have all used it since the start of this year.
The IoP commissioned a Censuswide survey of 1,000 young people aged 11 to 17 and 1,514 adults and found that a third had never heard of the word before, and among the other two-thirds, there was confusion about what it means.
Those who did describe what they thought it meant shared words such as glasses, smart, clever, hair, intelligent, geeky, nerdy, male, white-coat, serious, studious, scientist, bald, brainy, tall and posh (these terms were fed into an AI image generator to produce the below image). In particular, more than ten times as many of the survey respondents thought a boffin would be a man rather than a woman.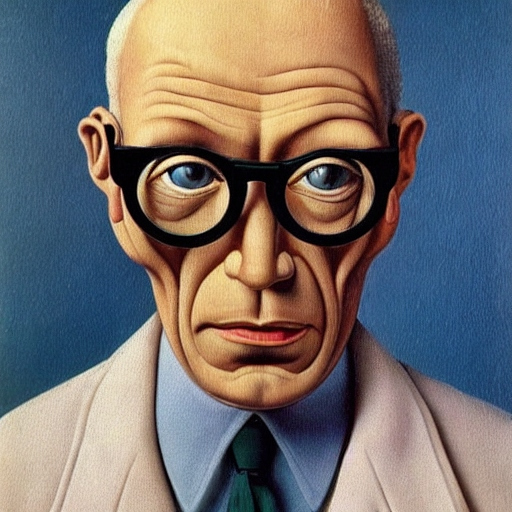 Some 15% of young people said they would be put off from studying a subject further if it might result in them being called a boffin, the survey found.
The IoP also asked 1% of its 21,000 members, likely to be the types of scientists being described in the media as boffins, what they thought and nearly one in five considered it to be an insult. Some 58% felt the term describes men and not women.
One said: "I don't think it's a helpful description of physicists for the media to use – it brings to mind a 'nutty professor' type, quite removed from the average person." Another said they had been called a boffin at school and "it was never meant kindly".
The IoP said their "bin the boffin" campaign was a polite request for editors to ditch the word voluntarily "because it mocks and disrespects scientists, and is a word that many of their readers simply don't understand. It is also very outdated and doesn't need to be used when there are so many better alternatives."
It is part of the IoP's ongoing Limit Less campaign, which aims to encourage young people to study physics, fighting prejudices and stereotypes that may stop them. The organisation also launched new media guidelines for reporting on stories relating to physics, covering things like who gets quoted and what images to use.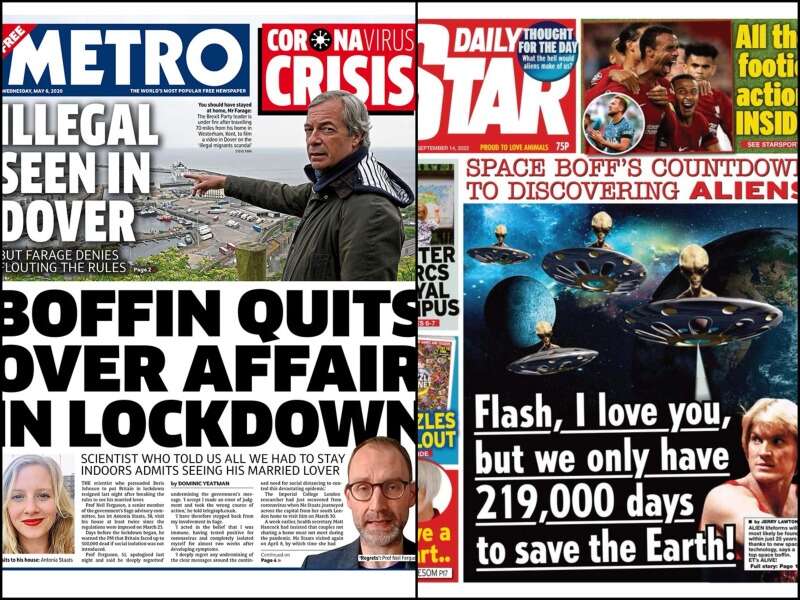 ---
Analysis on journalese and cliches
The late great Mirror writer Keith Waterhouse quotes Sam Goldwyn's advice about cliches being avoided like the plague in his book On Newspaper Style (published in 1989), writes Dominic Ponsford.
Sadly, as he notes, the plague is almost impossible to avoid: "That is what gave the Black Death such a bad name."
Cliches should be avoided because they encourage the writer and the readers to switch off. They don't aid understanding, they hinder it.
Other terms he suggested for the Mirror banned list include:
And that's official
Bonanza
Death toll
Drugs hell
Manhunt
Mercy dash
Purrfect
Sir (for teachers)
Star-studded
Toybov
Village of fear
Press Gazette's owned banned list includes the following:
cancer battles
cheating death
delighted – as in: "I'm delighted to announce that Joe Bloggs is my new editor."
extraordinary (if it was ordinary why would we be writing about it?)
got
hack (when used as a synonym for journalist)
hits out (sometimes unavoidable in headlines though)
mystery surrounds (don't start a story by telling the readers what we don't know)
raft (unless it floats)
really
Revealed: (As a headline kicker. May be acceptable in print to make a line fit – but online, surely all news stories should be revealing something)
recently
very
slams (unless for doors)
As Waterhouse wrote: "Cliches should be avoided in general by writers because reach-me-down phraseology has no place in original prose. The should be avoided by journalists in particular because it is the tendency of cliches to generalise, approximate or distort."
Email pged@pressgazette.co.uk to point out mistakes, provide story tips or send in a letter for publication on our "Letters Page" blog