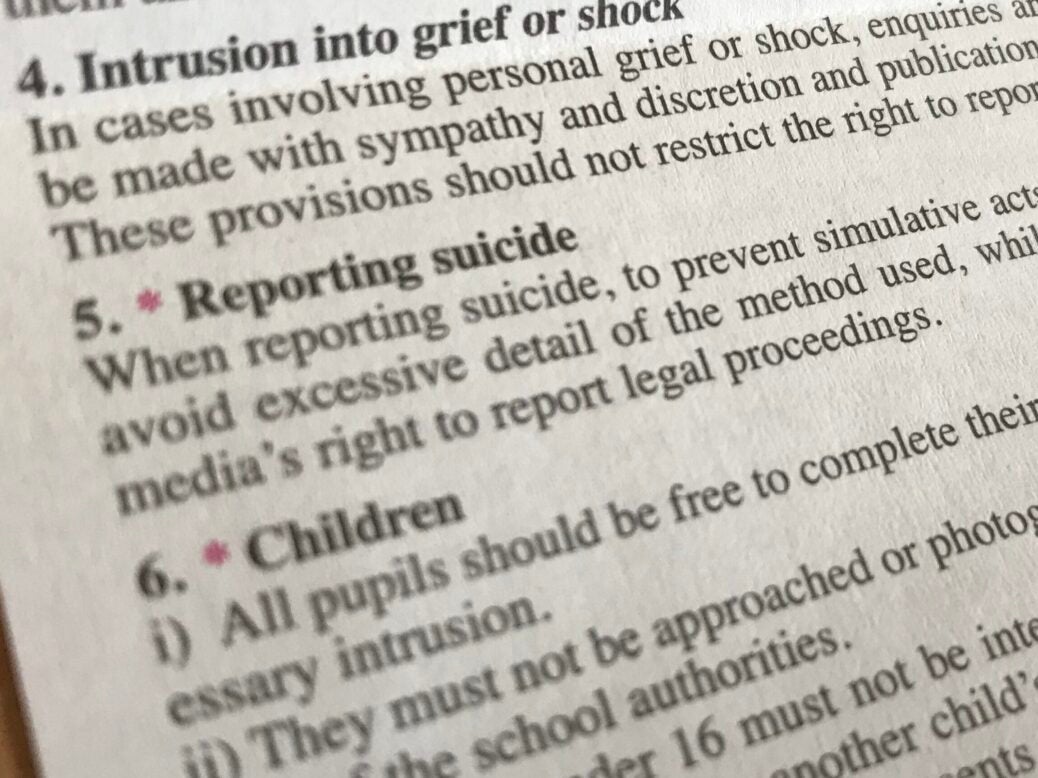 A US blogger is pushing for a change to the Editors' Code of Practice – the standards to which most UK newspapers are held – which would see publications sanctioned for pulling articles without explanation.
Peter Heimlich has asked the Editors' Code of Practice Committee to consider "plugging" a hole in the code which allows publishers to delete online news articles "with impunity".
Heimlich runs a blog called The Sidebar and a website, Med Fraud, about his work debunking fraud in the medical industry. He claims his father, Dr Henry Heimlich, after whom the Heimlich manoeuvre is named, did not in fact invent the anti-choking technique.
He has described his father, who died in late 2016, as a "spectacular con man" who invented nothing "but his own mythology".
Heimlich referenced three articles published by Independent Press Standards Organisation member publications that relate to his area of research and which were deleted with no explanation:
Mail Online: Ed Byrne saves choking fan's life, 2 January 2018
Northampton Chronicle & Echo: Northampton care home staff save residents' life after he started choking, 15 June 2018
Milton Keynes Citizen: Milton Keynes man's device saves 11 people from choking to death, 17 January 2019
Heimlich told Press Gazette: "'Here today, gone tomorrow' reporting is not only junk journalism, it's a thumb in the eye to readers: 'If we get something wrong, we'll just bury it and you don't deserve an explanation'.
"Now more than ever, mainstream news outlets are crucial. And I depend on them to help bring my research to a wider audience. But businesses that treat their customers with that kind of disrespect tend to go out of business, so why not try to fix the problem?
"I don't know if the Editors' Code of Practice Committee has ever reviewed/addressed the problem of member publications making like Winston Smith, but as a result of my experiences, I thought it was worth bringing to their attention. I'm curious to learn how they respond."
Heimlich complained to IPSO in April last year about the accuracy of the Mail Online article, over which the regulator found there was no failure to take care despite TV comedian Byrne denying the incident took place.
He later complained about the deletion of the Northampton Chronicle and Echo story, which disappeared after he made a complaint to the title that it was "problematic and possibly a hoax".
Editor David Summers told him in an email that it was "standard practice to remove articles, as a neutral act, while investigations are carried out".
And in an email to Heimlich last October, seen by Press Gazette, IPSO systems handler Todd Stammers told him: "IPSO only considers complaints framed under the Editors' Code of Practice regarding the editorial content of a publication.
"Our role is not to investigate or provide information about why an article has been removed. We do not have a requirement that any article that is removed must be explained publicly."
Stammers added that IPSO's head of standards, Charlotte Urwin, had been made aware of Heimlich's concern as her department works with members to improve editorial standards beyond the remit of the code.
The Evening Standard published a story with the same claim that Byrne had saved a fan's life using the Heimlich manoeuvre during a gig, but updated the story with a correction after Byrne said it was "untrue".
The original links to the other three articles all send readers to either the website's home page or a regional landing page.
Press Gazette understands that the Milton Keynes Citizen, part of JPI Media, deleted its article after receiving criticism from the subject of the story, but that the newspaper maintains there were no inaccuracies in the article.
Heimlich has now written to the Editors' Code of Practice Committee saying that a lack of provision in the code over the deletion of articles "raises a variety of concerns".
He has complained to IPSO about the story "disappearing" and asked the regulator to postpone its investigation until the Code Committee has considered his suggestion.
In a letter to Code Committee secretary Jonathan Grun, Heimlich wrote: "For instance, if an article includes false information, rather than exercising editorial responsibility to correct errors, a publication may simply eliminate the entire story.
"That may shield reporters and editors from embarrassment (or worse), but in my opinion the Orwellian 'disappearing' of published news reports is a disservice to readers and to the record.
"It's also a slippery ethical slope. For example, if an advertiser doesn't like critical information in a story, could a word in the ear of a person with authority at the newspaper lead to the offending article being sent down the memory hole?"
Grun told Press Gazette he had received Heimlich's request and that "suggestions for amendments to the Editors' Code are considered by the Editors' Code Committee in due course".
IPSO regulates and administers the code for the Code Committee, on which its chair and chief executive sit.
The regulator is still able to consider complaints about articles that have been deleted as long as the requirements for an investigation are otherwise fulfilled.
Email pged@pressgazette.co.uk to point out mistakes, provide story tips or send in a letter for publication on our "Letters Page" blog