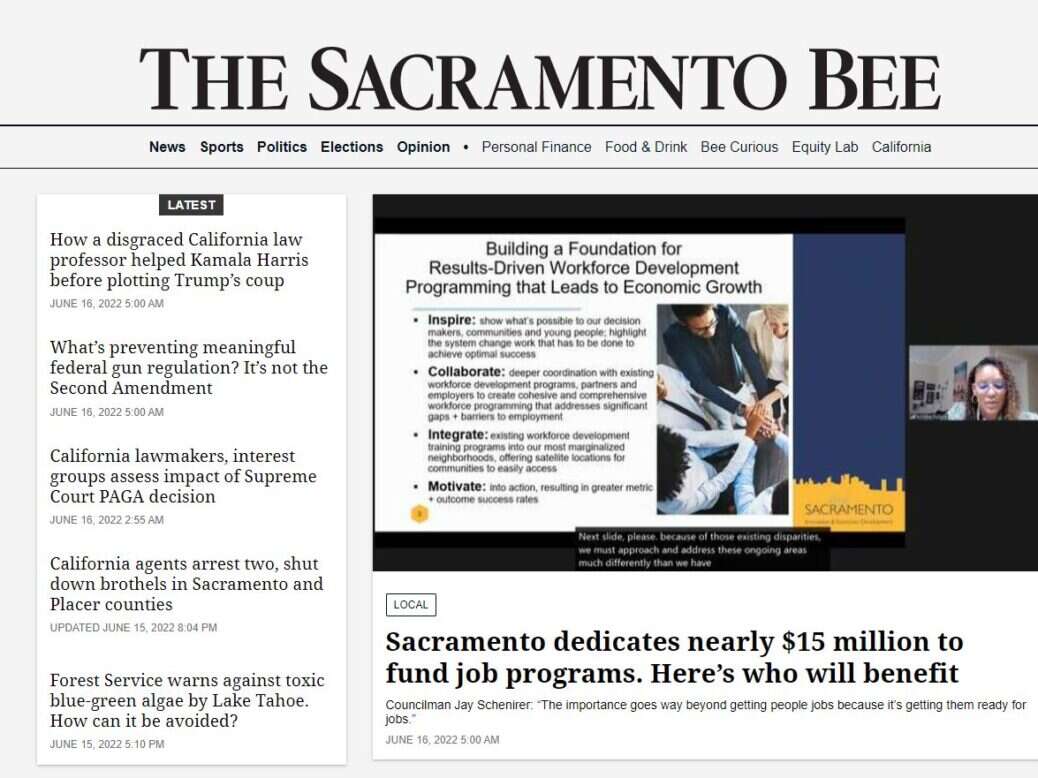 Partner Content*: A growing number of publishers are reaping the benefits of automated content. In many markets, however, widespread implementation remains in its relative infancy.
This poses challenges for those looking to explore its possibilities. With a relative paucity of domestic test cases to fall back on, the learning curve can be steep, with newsrooms having to chart their own course through a fast-growing, but relatively unstructured industry, offering a plethora of widely differing options.
US local media group McClatchy is one such early adopter, having gone live with automated content content less than 12 months ago. Indeed, it says much of the current profile of content automation in the US that it had not really been considered as a possibility, until, during a brainstorming session looking at gaps in the group's coverage, a new member of the team suddenly raised the issue.
"She had just come from Atlanta, where she had seen automation in use," recalls Cynthia DuBose, vice president, audience growth & content monetisation, at McClatchy. "But the concept was new to us and, to be quite honest, initially involved a fair amount of googling, just to understand what was available and what was possible."
Bridging the coverage gap
While knowledge around automation may have been somewhat lacking, DuBose and the team had a very clear vision of what they were trying to achieve: expand coverage of topics that had been proven to drive new audiences. "I would call it a coverage gap, rather than a reporting gap," she explains. "These were areas we already had journalists working in, but without the capacity to produce content at a desired volume."
One such area was real estate, where McClatchy, which publishes 29 daily newspapers across 14 states, was seeing significant appetite for granular information on local house sales, but could not afford to commit valuable journalistic time to pore through the data.
"We have real estate reporters, but their job is not to log every transaction that happens in a particular zip code," DuBose explains. "We want them reporting on the stories arising from those transactions: gentrification, the housing crisis, and so on. And, having started as a reporter myself, I certainly wouldn't have appreciated my editor asking me to sacrifice that work in order to simply collate information."
This speaks to how McClatchy has treated robot-generated content, shunning the oft-used term "robot journalism" in favour of "automated information". DuBose is clear that robots serve to supplement and support the efforts of human journalists, rather than replace them, and its implementation is only one aspect of a much bigger picture.
"Part of identifying coverage gaps also involved highlighting where we were lacking journalists, so, at the same time as we were introducing AI, we were also growing our editorial teams," the vice president explains. "This was a journey of lots of different paths to drive new audience and automation was just one part of that."
This also helped when it came to getting editorial teams onside. DuBose leveraged a series of news townhalls to ensure that everybody was kept up to speed with both the intent and progress of the automation project, pointing to the fact that at the same time as these were being conducted, the group was advertising over 100 positions for recruitment.
"We expect our journalists to be sceptical," she says. "And we certainly didn't want anyone to be surprised by what was happening. Before we had a launch date – or even knew how long this process would take – we were holding forums. Internal transparency was incredibly important to us. We needed everybody to be able to visualise what this project entailed."
An editorial lead
Another major feature of getting editorial onside was the involvement of senior journalists in helping implement the programme. The Sacramento Bee was chosen as the first newsroom to trial a real estate bot, not only due to a booming housing market – "every time we published something about housing prices, we'd see it shooting right to the top," DuBose says – but because the editor was enthusiastic to take the lead.
"We needed something that could be journalist-led," says DuBose. "There are a lot of vendors out there, but many of them require you to have somebody on the tech side to take ownership. Most local newsrooms don't have that sort of capacity. We needed a solution where the technical side would be taken care of, and we could take the lead on content.
"To get this right, you need somebody in the newsroom who can partner with your vendor. I made it quite clear to the editor that there would be no pressure to go live until he was completely comfortable with the content coming through. During the training phase, everything went through him and our SEO team. He would make amendments, send it back, those edits would be inputted, and the robot started to learn. That was the lightbulb moment for me, when I could see for myself that the bot was responding to our requirements. We were probably in the learning phase longer than normal, as this was the first time we'd done this and we wanted to be sure we got it right before anything was published automatically."
As well as ensuring that an editorial lead is fully committed, the vendor relationship is also key to unlocking success. For DuBose, much of it comes down to a question of trust and mutual understanding. "You need your partner to appreciate what it is you have promised to deliver and that all publishers are different," she explains. "They need to adapt to our requirements, not the other way round. United Robots never came to us saying, 'here's what this should look like'. They've taken our feedback and inputs around how we do things and then found solutions. That's a real partnership."
---
Read United Robots'  12-page report on newsroom automation: It explains what it is and how it can make journalism better.
---
Trust also extends to how automated content is presented to readers. All copy is clearly bylined as robot generated and feedback is invited through an explainer and email address at the footer of each piece – with all emails going directly to DuBose. "There's a lot of talk around the media not being transparent about the news gathering process," she concedes. "It's therefore so important we're upfront with our readers and communities.
Working together
Such transparency only serves to help journalism work in closer harmony with automated content. Four months into launching the real estate bot, the newsroom started producing a weekly newsletter, combining reporter- and AI-generated content. "The sign-ups were incredible," says DuBose. "And it makes for such a great product, combining in-depth analysis with details of specific sales. When our journalists first saw it, I think that's the point that any doubters realised what a powerful tool this can be."
It has also piqued the interest of titles across the group. McClatchy is currently working with United Robots in two markets, Miami and Sacramento, and is in the process of onboarding five more. As the projects scale up, sharing those experiences and establishing best practises will be invaluable.
"We quickly started hearing from other newsrooms, asking about other possibilities and potential projects," says DuBose. "That's been really important. Without giving too much away, what I can say is now that we have experimented and figured out the process, we will be doing more; creating new products and touch points for our audiences."
For those looking to follow in McClatchy's footsteps and investigate the possibilities of automation in a less mature market, DuBose believes there are some key steps one should take.
"There's no point in using data for data's sake and there's no point generating content for content's sake," she says. "Volume only matters if there's engagement. As humans, we are inundated with data and there is data available for basically anything. What you need to think about are the outcomes, not the inputs: what is the desired end result? Make it editorially driven and be as transparent as possible – with your newsroom, with your readers and with your vendor. Communication is absolutely key."
*This article was sponsored by United Robots. 
Email pged@pressgazette.co.uk to point out mistakes, provide story tips or send in a letter for publication on our "Letters Page" blog