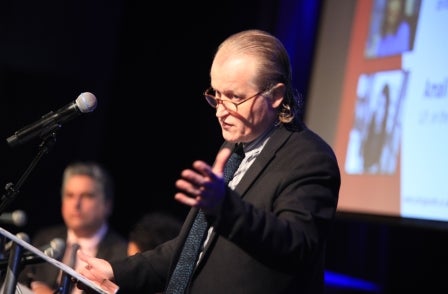 The Bureau of Investigation has asked the European Court of Human Rights to stop the UK Government from spying on journalists and their sources.
The legal challenge to the Regulation of Investigatory Powers Act 2000 was prompted by Edward Snowden's revelations over state mass electronic surveillance.
But curbs on RIPA could also stop UK public authorities using it to secretly obtain the phone records of journalists to identify sources, as highlighted by Press Gazette's Save Our Sources campaign.
The Bureau is concerned that there is no protection built in to RIPA to protect journalistic sources. 
This means that the Met Police were able to use RIPA to secretly request the phone records of The Sun and its political editor in order to find and sack three police officers accused of leaking information about the Plebgate affair.
The Bureau's legal challenge is being led by top media law QC Gavin Millar who believes the RIPA contravenes European law.
The challenge sets out concerns about the "mass scale interception, collation, storage and analysis by government agencies in the United Kingdom" of communications data.
It says: "Without rigorous and effective legal safeguards, it is plain that the use of these powerful technologies may now fundamentally undermine journalistic free expression in a way that could not previously have been envisaged. 
The challenge argues that UK government analysis of communications data without regard for protecting the confidentiality of journalistic sources is in breach of Article 8 (privacy) and Article 10 (freedom of expression) of the European Convention on Human Rights.
The Bureau wants to secure a declaration from the court that RIPA is incompatible with European law, forcing the UK Government to redraft it in a way which includes protection for journalistic material.
In a piece written for the Bureau Millar said: "The government uses the Regulation of Investigatory Powers Act 2000 (RIPA) to harvest huge quantities of our data. This includes the content of our digital material and communications. It also includes our communication data (or metadata) – the surrounding information about who we communicate with, how, when, from where and so on.
"There is no targeting of subjects for these investigations by GCHQ (such as particular individuals or premises). Instead there is blanket collection of data in pursuit of broadly identified aims – such as the protection of national security and prevention of crime. Authorisations under RIPA are signed off routinely and on a rolling basis."
Millar said that "large quantities of journalistic information" are being drawn in by GCHQ and that "no one knows anything about what GCHQ does with the journalistic information it pulls in".
"This is because, startlingly, neither the legislation nor government guidance about its use says anything at all about this.
"But it is inevitable that some of GCHQ's minute analysis of the data will be giving it selective access to confidential journalistic material and identifying sources.
"There is already much evidence that law enforcement agencies increasingly seek to access such information for their own purposes. It is an easy way of advancing their investigations. It can help to identify and deal with embarrassing whistleblowers and can forewarn of awkward stories in the offing. The same is true for the security and intelligence agencies."
Millar said he believes the use of RIPA by UK law enforcement agencies to obtain confidential journalistic information without external approval is a clear breach of European law.
He said: "The law under the Convention is quite clear. Covert state surveillance and accessing of journalistic information cannot be used to circumvent these important rights.
"Other journalistic information and activity can only be the subject of such covert surveillance in certain circumstances. Most importantly it must be carried out under laws which are clear, accessible and foreseeable in their effects.
"These laws must give journalists an adequate indication of how these discretionary surveillance powers might be used against them. They also have to provide protection against arbitrary or disproportionate surveillance measures."
More on this story from The Bureau of Investigative Journalism
Email pged@pressgazette.co.uk to point out mistakes, provide story tips or send in a letter for publication on our "Letters Page" blog