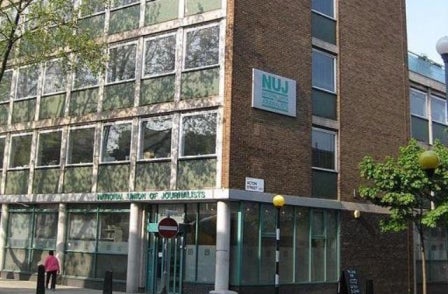 Press Gazette's report on the NUJ's support for statutory-underpinned press regulation provoked a heated response on Twitter yesterday with widespread concerns raised about the stance.
Today the union was also attacked in a Sun editorial in which the paper said it was "dumbfounded by the chilling decision of a union in our own trade to back Stalinist-style state regulation of newspapers".
The paper accused the union of surrendering "centuries of hard-won press freedom for government control of the press", claiming the UK would "end up like Russia, Zimbabwe and Iran, with state stooges and politicians deciding what can or can't be printed in your Sun".
Many journalists, yesterday took to Twitter to question the union's position:
Extraordinary that the NUJ's wretched leaders are supporting statutory regulation of press, we have been fighting that since the 1640s

— Nick Cohen (@NickCohen4) November 5, 2012
Disappointing reaction from the NUJ regarding @pressgazette poll on state regulation. NUJ completely at odds with nearly every journo I know

— GingerElvis (@GingerElvis) November 5, 2012
I am appalled the NUJ backs state regulation of UK press. How many members did the union consult before announcing this?

— Matthew Bell (@mattdbell) November 5, 2012
I wonder how many members the NUJ will lose this week?

— Mark Wallace (@wallaceme) November 5, 2012
NUJ doing a fantastic job once again today of reminding me why I came out union. Desperately out of touch with industry in every respect.

— Iain Hepburn (@iainmhepburn) November 5, 2012
@newsviewer I'm an NUJ member. Bad idea, should have had a vote on it. Press need to be 100% free to expose wrong in public life. #democracy

— Liz Carnell (@Newsgirl100) November 6, 2012
Stunned by NUJ backing for state regulation of press without consulting its members

— Kirsty Buchanan (@KirstyBuchanan4) November 6, 2012
Wow. Just caught up with the NUJ decision on statutory regulation of the press. That should shed a load more members.

— Jon Welch (@JonMWelch) November 5, 2012
Odd move by the NUJ.

— davidhiggerson (@davidhiggerson) November 5, 2012
Much of the anger was directed at the apparent lack of consultation with members over the decision:
If NUJ Executive truly believe they're reflecting rank and file by voting for state regulation why not hv special all-member ballot on it?

— Neil Wallis (@neilwallis1) November 5, 2012
NUJ backing state regulation of membership without asking membership. Bonkers.

— Media Guido (@MediaGuido) November 6, 2012
Pity NUJ didn't offer us a vote RT @pressgazette Do NUJ members support stance in favour of statutory press regulation? ow.ly/f1yB8

— Aidan Radnedge (@aidanrad) November 5, 2012
RT @mediaguido NUJ backing state regulation of membership without asking membership. Bonkers. // Expect a U-turn – if they consult members

— Vincent Moss (@vincentmoss) November 6, 2012
NUJ took this controversial stance w/out polling members. They'll be wanting a ministry of truth next.

— Heather Brooke (@newsbrooke) November 6, 2012
Did the NUJ ask/poll their members before their decision to support statutory regulation? How many did they consult? @nujofficial

— Dylan Sharpe (@dylsharpe) November 5, 2012
@akefford I wonder why the NUJ would take a stance on such a significant issue without canvassing members views? Odd.

— Alison Gow (@alisongow) November 5, 2012
One NUJ member, Christina Wallis (@xtinewallis), said she had spoken to 22 fellow NUJ members and that "not one knew anything about it", adding: "Against everything journalism stands for. Furious." Wallis later claimed to have cancelled her membership.
Press Gazette ran a poll asking journalists what they thought about the NUJ's decision in which 66 per cent of those polled said they disagreed with the decision. But the poll itself was dismissed by several journalists who support the NUJ leadership position:
@selkie @jamesrbuk @pressgazette Also allows members of the public to "pretend" to be NUJ members without verifying. The poll is worthless.

— Paul Thomas (@liassic) November 5, 2012
@pressgazette a poll is not particularly strong if you can vote for your view more than once, as many pointed out …

— James Doherty (@jdoh28) November 5, 2012
@valerie_flynn I voted twice, how many times did you vote? It's meaningless. @pressgazette

— Donnacha DeLong (@donnachadelong) November 5, 2012
At one point Press Gazette was accused of being responsible for journalists cancelling their membership:
Congratulations @pressgazette on the kneejerk reactions and NUJ membership cancellations. Wonderful for the industry. *slow clap*

— T Portilho-Shrimpton (@Selkie) November 5, 2012
In its defence, the NUJ insists that it did consult with members. NUJ president Donnacha DeLong quoted from NUJ active emails sent out to members between November 2011 to January 2012:
(1) #NUJ Active email (09/01/12): The union has been granted core participant status for the Leveson Inquiry and we are asking members to…

— Donnacha DeLong (@donnachadelong) November 5, 2012
(2) contact #NUJ General Secretary Michelle Stanistreet with views and experiences that can inform our participation…

— Donnacha DeLong (@donnachadelong) November 5, 2012
(3) Please contact Michelle in confidence via email: leveson@…

— Donnacha DeLong (@donnachadelong) November 5, 2012
The emails do not, however, appear to reference the fact the NUJ was considering support for statutory underpinning. Nor were members specifically balloted on this issue.
The NUJ's ethics chief Chris Frost today defends the NUJ position arguing that statutory regulation "allows parliament (democratically elected) to decide the extent of regulation, but leaves it to an independent regulator to enforce it with statutory authority to apply its code to publishers of a certain size".
And in another guest blog on Press Gazette, former Hacked Off co-ordinator Thais Portilho-Shrimpton insists the stance adopted by Hacked Off and the NUJ supporting an independent statutory press regulator has been misreported. She says: "This body would be created – just its existence set up by statute. The only thing the law will do is say 'this body now exists and its structure looks like this, and it has the power to investigate newspapers when appropriate'."
Email pged@pressgazette.co.uk to point out mistakes, provide story tips or send in a letter for publication on our "Letters Page" blog