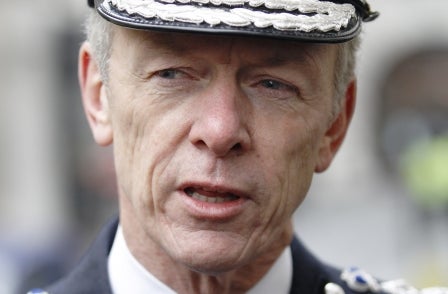 The Guido Fawkes website has been accused of "working collectively" with Press Gazette and branded "vexatious" by the Metropolitan Police after filing a Freedom of Information Act request to find out if its staff's telephone records had been secretly obtained by the force.
The Met accused the website of a "vexatious and repeated request" and claimed that it was linked to previous questions about the Regulation of Investigatory Powers Act asked by Press Gazette.
The Guido Fawkes website has only sent one batch of three FoI questions on this subject.
Separately, at least three other journalists have received similar responses to FoI requests asking about journalists' phone records being obtained by the force.
In addition, seven other police forces have refused Press Gazette FoIs on their use of RIPA to obtain journalistic phone records under the same "vexatious" exemption, section 14(1) of the FoI Act.
The Met's response, published on Guido Fawkes, said: "Your request was received on 10/02/2015 at 13:16… These requests are linked to a previous vexatious notice, reference number 2015010000948, which was issued on 02/02/2015 and published in full on the following website:
"https://pressgazette.co.uk/media_law/vexatious-annoying-and-disruptive-press-gazette-barred-met-asking-more-ripa-questions/
"Based on the above I can therefore only assume that you are working collectively, using a mosaic approach to gather information."
The website responded by saying: "For the avoidance of doubt, Guido is not 'working collectively' with Press Gazette on sending FoIs to the Met. This strange allegation by the Met is completely untrue. He sent just one batch of three requests, which in no reasonable terms can be described as vexatious or repeated. Guido will be complaining to the Information Commissioner about the Met's refusal to disclose whether they obtained our call data."
Matt Burgess of the FoI Directory, Al Jazeera journalist Will Jordan and freelance Joseph Cox have each received similar responses.
Earlier this month, the Met accused Press Gazette of being "vexatious", "disruptive" and "annoying" for sending six FoIs requesting information on journalists' being targeted under RIPA in six months.
Since, seven other forces – Northumbria, West Mercia, Gwent, Northern Ireland, Humberside, Northamptonshire and Norfolk – have rejected Press Gazette FoIs on RIPA and journalists on the same grounds.
Press Gazette will be complaining to the Information Commissioner.
Jordan, who has no connection with Press Gazette, asked the force: "How many times has the Met obtained journalistic phone records under RIPA from 2010 to the current day? Please provide a breakdown for each year."
Cox asked a similar question to that tabled by Press Gazette and was also labeled "vexatious" and of working in "concert" with this title.
Although he used a similar wording to that used in our published FoI question, he also has no connection with Press Gazette and submitted his request entirely independently.
Specialist Freedom of Information journalist Matthew Davis from Datanews, said: "It's the first time that I've known that exemption to be used in that way.
"When you've got a topic as important as this, RIPA, that affects an enormous number of people – they can't say they are closing down anybody asking about RIPA and journalists.
"Effectively they are saying that's a topic that can't be asked about under Freedom of Information. Anybody who asks a question about RIPA and journalists is being seen as part of this campaign and being labeled vexatious.
"This is not what this clause was in the FoI Act for. If you've got something that's a genuine topic of public interest then you have to bite the bullet and take it.
"The BBC FoI office has probably had hundreds of questions about Jimmy Savile. But they don't say that anybody who asks a question about that is being vexatious and part of the same campaign of people who hate Jimmy Savile."
On Press Gazette's specific "vexatious rejection", Davis said: "They can't call you vexatious when you are being the good guy. You have made various attempts to refine your request so that it falls within the scope of the act. To then label you vexatious when you finally ask a question that falls within the scope of the act is bang out of order."
Tim Turner, Freedom of Information and Data Protection Trainer and former FoI officer, described the Met's "vexatious" response as an "abuse" of the process. 
He said: "FoI is democratic because anyone can ask for anything but when considering a vexatious refusal, if anyone should get the benefit of the doubt, it should be a journalist.
"The classic vexatious request comes from someone pursuing a fruitless personal campaign of no wider benefit to the public.
"Journalists asking questions about hugely controversial legislation is the reverse of that.
"The Met is rewriting S14 to give them an absolute exemption to escape the normal refusal process."
Turner added: "Some exemptions may apply to some of the data – those on investigations, law enforcement and possibly even national security – but all are designed to prevent specific harm, and all carry a public interest test.
"They wouldn't cover all of the data you have asked for.
"I'm very concerned by the way they lump all journalistic activity on RIPA together to claim that any single request requires disproportionate effort because of the rest of them.
"If this was an NUJ conspiracy to paralyse the Met, there might be some mileage in their claim.
"As it is, the Met are saying that because different journalists are interested in something at the same time, this makes each one of their requests vexatious. It's the opposite: a spontaneous crowd of FOI requests from different people is a manifestation of the public interest."
Email pged@pressgazette.co.uk to point out mistakes, provide story tips or send in a letter for publication on our "Letters Page" blog