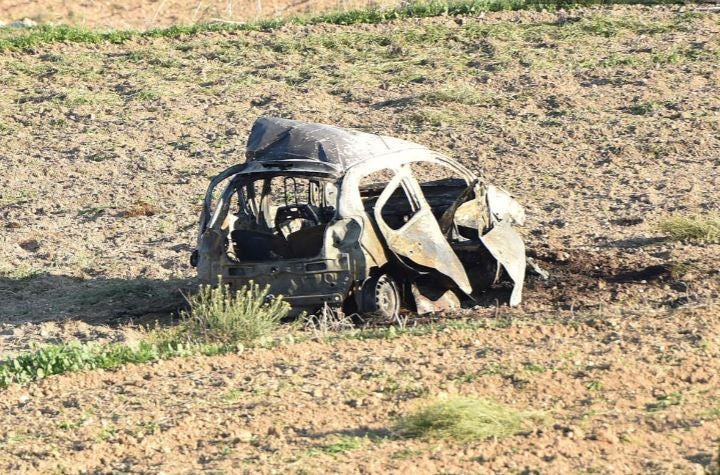 The son of murdered Maltese journalist Daphne Caruana Galizia has said she was "assassinated because she stood between the rule of law and those who sought to violate it, like many strong journalists".
Matthew Caruana Galizia is a journalist himself and has also condemned the "gang of crooks", including London-based lawyers, "who conspired with politicians in Malta to financially cripple my mother with one vexatious lawsuit after another".
Writing on Facebook he said: "She was also targeted because she was the only person doing so. This is what happens when the institutions of the state are incapacitated: the last person left standing is often a journalist. Which makes her the first person left dead."
Caruana Galizia, 53, had just driven away from her home in Mosta, a large town on Malta's main island, when a bomb went off, sending the vehicle's wreckage spiralling over a wall and into a field.
Among her stories were investigations based on the Panama Papers leak detailing politicians' secret offshore holdings.
Opposition leader Adrian Delia sued her over a series of stories linking him to a prostitution racket in London, and economy minister Chris Cardona claimed libel when she wrote that he visited a brothel while in Germany on government business.
Matthew wrote of arriving at the scene of Monday's bomb blast to find his mother's body scattered around him.
He wrote: "I am sorry for being graphic, but this is what war looks like, and you need to know. This was no ordinary murder and it was not tragic. Tragic is someone being run over by a bus. When there is blood and fire all around you, that's war. We are a people at war against the state and organised crime, which have become indistinguishable.
"A few hours later, while that clown of a Prime Minister was making statements to parliament about a journalist he spent over a decade demonising and harassing, one of the police sergeants who is supposed to be investigating her murder [NAME REDACTED] posted on Facebook, 'Everyone gets what they deserve, cow dung! Feeling happy :)'
"Yes, this is where we are: a mafia state where you can now change your gender on your ID card (thank God for that!) but where you will be blown to pieces for exercising your basic freedoms. Only for the people who are supposed to have protected you to instead be celebrating it. How did we get here?"
Malta has appealed to the FBI and to European forensic experts to help investigate the killing.
In her crusade against corruption, Caruana Galizia, 53, took on top politicians and other powerful Maltese.
Graffiti quoting the last words she wrote: "There are crooks everywhere you look" popped up on the island on Tuesday.
Some EU politicians are pressing for closer scrutiny of the tiny European Union nation in the Mediterranean Sea, which is considered a banking haven.
Email pged@pressgazette.co.uk to point out mistakes, provide story tips or send in a letter for publication on our "Letters Page" blog