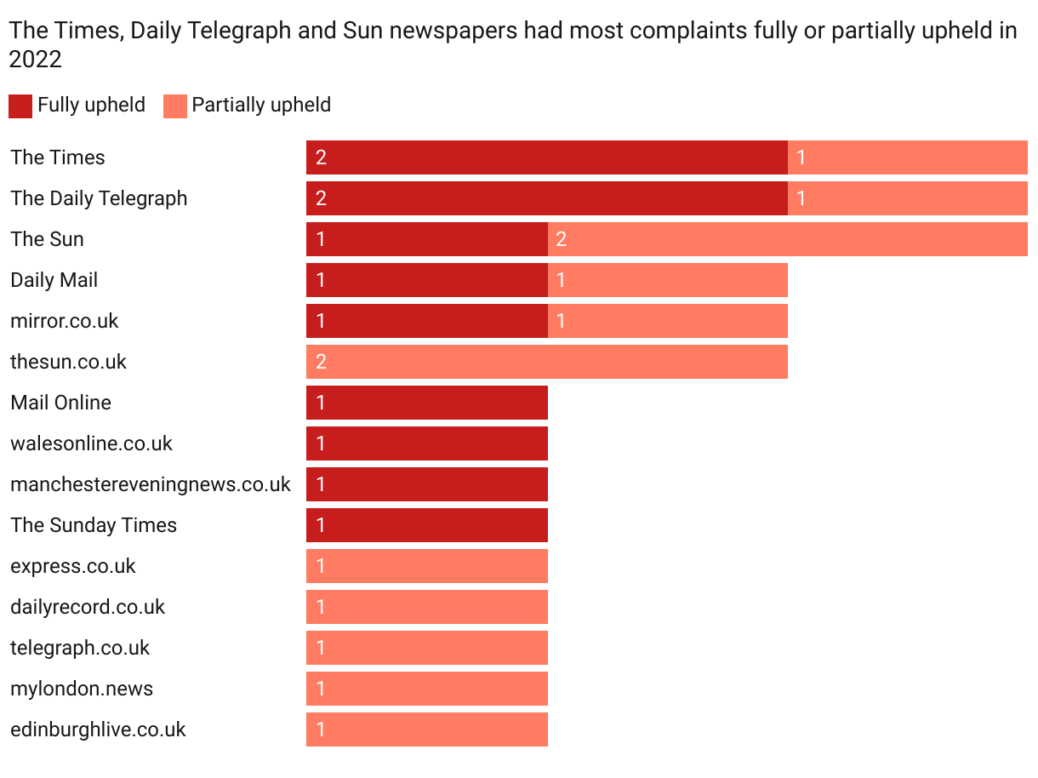 Mail Online had the most upheld IPSO complaints in 2022 with seven breaches of the Editors' Code, based on its publisher statement to the regulator.
However, IPSO's own count in its annual report shows The Times, The Daily Telegraph and The Sun newspapers as those with the most Editors' Code breaches in 2022.
IPSO's count is based on when complaints are entered into its computer system. The publisher's own tallies are based on when the complaints are made.
IPSO regulates most national newspapers but does not deal with complaints against unregulated titles such as The Guardian, Observer, FT, Independent or Evening Standard.
In IPSO's annual report The Times and Telegraph each had two complaints against them fully upheld and another partially upheld, while The Sun had one complaint fully upheld and two partially upheld.
But in general there were fewer breaches in the 2022 report than in recent years. In 2021, four titles had four or more complaints fully or partially upheld by IPSO. Whereas Mail Online was the most-sanctioned title in 2021, with four complaints against it fully upheld and another 11 partially upheld, in 2022 it had only one breach.
In contrast, in 2022 thesun.co.uk, mirror.co.uk and the Daily Mail newspaper were the only publications besides The Times, The Telegraph and The Sun to be found in breach of the Editors' Code more than once.
[Read more: Mail Online tops press regulator IPSO's 2021 naughty list with 15 rulings against it]
Mail Online most complained-about title in 2022 report
Mail Online, the un-paywalled DMGT website that hosts both original content and stories from the Daily Mail and Mail on Sunday, published 515 articles in 2022 that were the subject of an IPSO complaint.
Mail on Sunday had the most rejected complaints made against it, with 6,303 complaints against it dismissed in 2022. The overwhelming majority of these related to the newspaper's May 2022 story claiming that Labour's deputy leader Angela Rayner would deliberately cross and uncross her legs at Prime Minister's Questions to knock then-prime minister Boris Johnson "off his stride".
IPSO dismissed all complaints about the article because they did not come from Rayner or her representatives.
Most complaints to IPSO are dismissed before they are investigated or mediated - typically because the regulator determines that the dispute does not engage any part of the Editors' Code. IPSO cannot rule, for example, on matters of taste or on claims of harassment that are not brought by the subject of that alleged harassment.
However, the Rayner article was not the most complained about article all year. In December 2022, a Sun column about Meghan Markle by Jeremy Clarkson became the most complained about article in IPSO's history. More than 25,100 people complained to the regulator about the piece, which it ultimately found did breach Clause 12 (discrimination) of the Editors' Code. The incident was processed as a single complaint from The Fawcett Society and Wilde Foundation, so only represents a single breach/complaint in the tables above.
[Read more: IPSO rejects all 6,000 complaints re MoS coverage of Angela Rayner]
Alternative count: Based on date of ruling, Mail Online breached the Editors' Code the most in 2022
IPSO's annual reports cover complaints entered into its system between 1 January and 31 December. In contrast, the annual statements made to IPSO by individual publishers are based on when cases were concluded, meaning a complaint made in late 2021 but finished in mid-2022 would not appear in IPSO's 2022 report, but would appear in the publisher's 2022 statement.
Based on publisher annual statements for 2022, the publication that was ruled to have breached the Editors' Code the most times in 2022 was Mail Online, followed by The Times, express.co.uk and mirror.co.uk.
IPSO breaches in 2022, per annual report
Among The Sun, Times and Telegraph's breaches in 2022:
Other notable IPSO decisions handed down in 2022 included:
Email pged@pressgazette.co.uk to point out mistakes, provide story tips or send in a letter for publication on our "Letters Page" blog