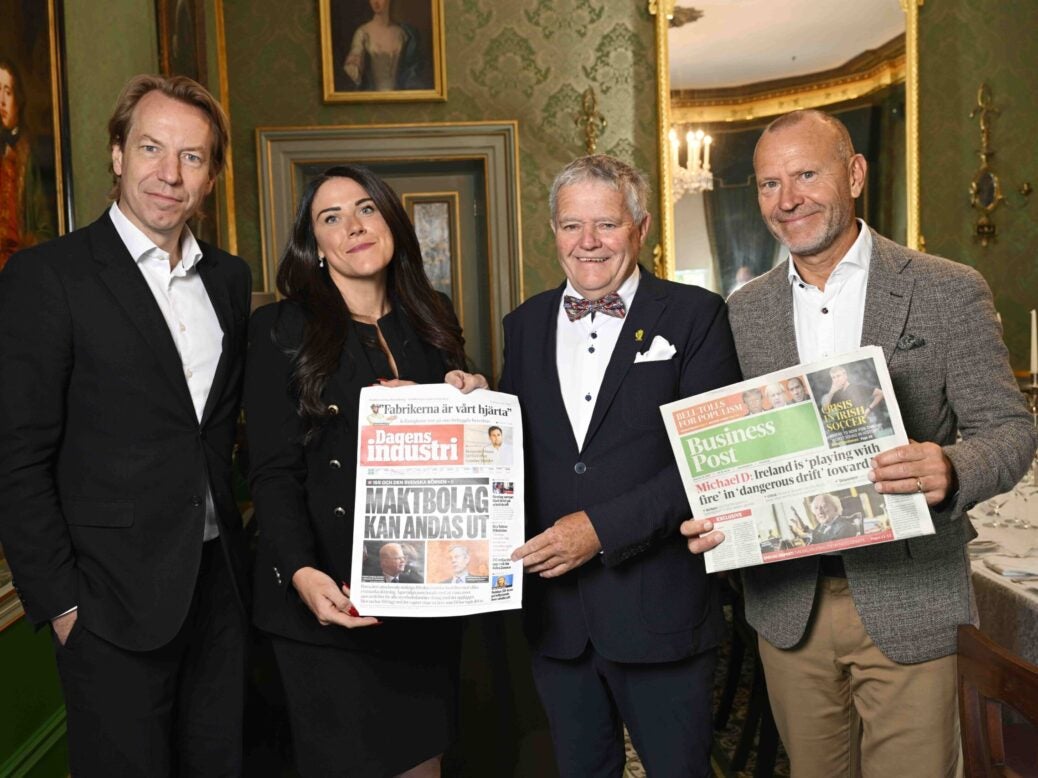 Bonnier News, already the biggest news publisher in Sweden, has ambitions to transform the journalism business globally – starting with Ireland.
It has taken a minority stake in Ireland's Business Post Group and has ambitions to replicate its home-grown success globally.
Without much room left to grow in its home country of Sweden, Bonnier sees the English-speaking news media market as a big opportunity and believes it has particular expertise in digital subscriptions and B2B publishing it can share.
In Sweden, Bonnier News owns three daily national newspapers – Dagens Nyheter, Expressen and the country's only daily business title Dagens industri – as well as 47 paid-for daily local newspapers, 20 free papers, 30 magazines and 20 niche titles – including Dagens Media, Sweden's equivalent of Press Gazette covering media and marketing. The organisation says this represents about half of the market, while it is also one of the largest magazine publishers in the country and has a minority ownership in another newspaper group on top.
Bonnier News chief executive Anders Eriksson told Press Gazette that in its home market, the company is "more or less the total of News UK, Reach and also the FT".
It has about 2.2 million subscribers in Sweden, a country with a population of about 10.4 million, and reaches about six million people every day with its content.
As a result, Eriksson says the company "can hardly grow [any] more in Sweden. But the English-speaking market is bigger, so it offers new opportunities".
In total Bonnier owns news and magazine brands in 11 countries, including Norway, Denmark, Germany, Finland and Poland, and says that across its markets it has a lot of experience in digital transformation and subscriptions.
Thomas Mattsson, senior adviser to Bonnier News and former editor-in-chief of its Expressen newspaper for more than ten years until 2019, told Press Gazette the company "aims to be an integral part of the transformation of the news business".
Bonnier has been family-owned since it was founded in 1804 and is now in its sixth and seventh generation. This ownership, Mattsson said, gives the business a "very long-term perspective".
Bonnier News had revenue of £630m in 2022 and EBITDA of £59.7m, Mattsson told Press Gazette. The business had a "healthy" 9% EBITDA margin in 2022, which was "down from 12% in 2021, but still good considering macroeconomics such as energy prices, interest rates and so on," Mattsson said.
"Now we would like to grow further outside of Sweden, so we are reaching out and are open also to various partnerships."
Bonnier News invests in 'impressive' Business Post
In July, Bonnier News made a strategic minority investment in Ireland's Business Post Group, which publishes the 34-year-old Business Post newspaper.
The newspaper, then called the Sunday Business Post, was itself bought in 2019 by entrepreneur Enda O'Coineen and his investment firm Kilcullen Kapital Partners.
Since then, according to Mattsson, Business Post Group has increased revenue from approximately €7.5m (£6.5m) to about €22m (£19m) with steady profit.
Eriksson told Press Gazette this was "impressive by Enda O'Coineen and his team, of course, but the rationale of this investment is actually bigger than that.
"The Irish economy is strong and the size of the market is similar to Denmark, where we publish the market-leading business daily Børsen, and slightly bigger than Lithuania plus Estonia, where we run the business dailies Verslo Zinios and Äripäev. So, we have [a] strong belief in the possibility to share B2B industry knowledge also with the Business Post and be an active part in the transformation to digital."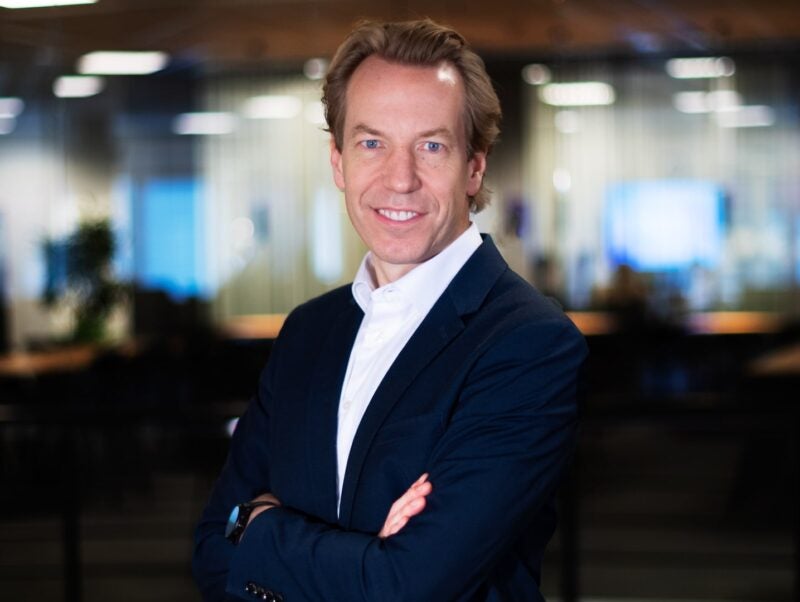 Bonnier News will be represented on the Business Post Group board by Mattsson and Karmo Kaas-Lutsberg, who also sits on Bonnier's board as the member representing its foreign business newspapers, which he used to run as chief executive.
Although day-to-day management will not change and the company continues to be majority controlled by O'Coineen, the Bonnier representatives will share learnings with a focus on digital subscriptions and in particular on "analytics, price models, B2B content and so on", Mattsson explained.
'Growth potential' for subscriptions in Ireland and UK
Bonnier believes both Ireland and the UK have plenty of potential to grow the numbers of people paying for news online.
The latest Digital News Report from the Reuters Institute for the Study of Journalism showed Norway remained on top for willingness to pay, with 39% saying they had paid in the past year – although this was down from a peak of 45% in 2021. Sweden was in second place with a more upward trend, although it has been flat with 33% for the past two years.
By comparison, Ireland was on 15% this year and the UK at joint bottom of the table with 9%.
Mattsson said the "Norwegian figure is decreasing and we're growing, so Sweden might soon be the number one market in paid-for digital news consumption. Ireland, though, still has potential for some growth, as has the UK, I would say."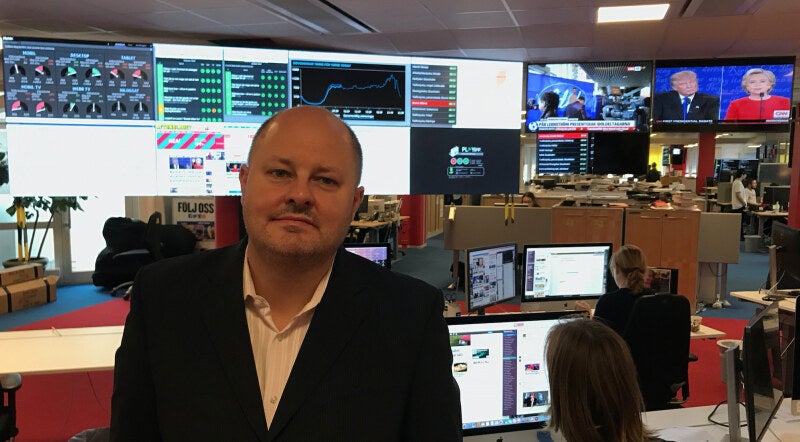 Bonnier "really believe[s]" in digital subscriptions "given that print is still profitable but of course in decline", he added.
Mattsson said there is a lot of "good journalism" in Ireland – he has recently met with players such as Irish Independent publisher Mediahuis Independent as well as niche business titles Silicon Republic and The Currency – but that its market is "way behind" many European countries on digital.
He explained: "It's very print-oriented with primarily single copy sales, home delivery is under-developed, digital offerings are ad-driven and generally not subscription-based, there are rarely any videos on the websites and certainly not much live video streams from the newspapers… so there is room for some innovations, I would guess, in the coming years.
"But my initial analysis is that all the publishers over here are well aware of the possibilities, so the competition will be fierce."
Explaining why he sees a subscription strategy as being so critical, Mattsson said that Expressen, which he led for more than a decade, is still ad-driven online "and, over time, will need to be primarily financed by subscriptions.
"This is the path for everyone, we must realise. The Sun, Bild in Germany, VG in Norway and perhaps Expressen in Sweden may have substantial reach and advertisement revenues for years to come, I still believe that, but there must also be solid income not depending on the story of the day, which makes the subscriptions strategies so principal."
Despite the size of the Bonnier News portfolio and its ability to centralise functions such as print production, distribution, sales, HR and finance, its titles rarely share content. It employs about 2,500 journalists of a total of 8,000 employees in 11 countries.
Mattsson explained: "Our national titles compete. In some cities, we have liberal local papers competing with social-democratic titles. This offers plurality, but there are also challenges: depending on the story, in theory, four or five or so Bonnier News brands might show up to cover a specific press conference… Our CFO is probably not too happy about that, I must admit, but the editors see the journalistic value in plurality."
Bonnier News was already in the English-speaking market via its book publishing arm, Bonnier Books UK, which also entered Ireland with Dublin-based imprint Eriu last year.
Email pged@pressgazette.co.uk to point out mistakes, provide story tips or send in a letter for publication on our "Letters Page" blog