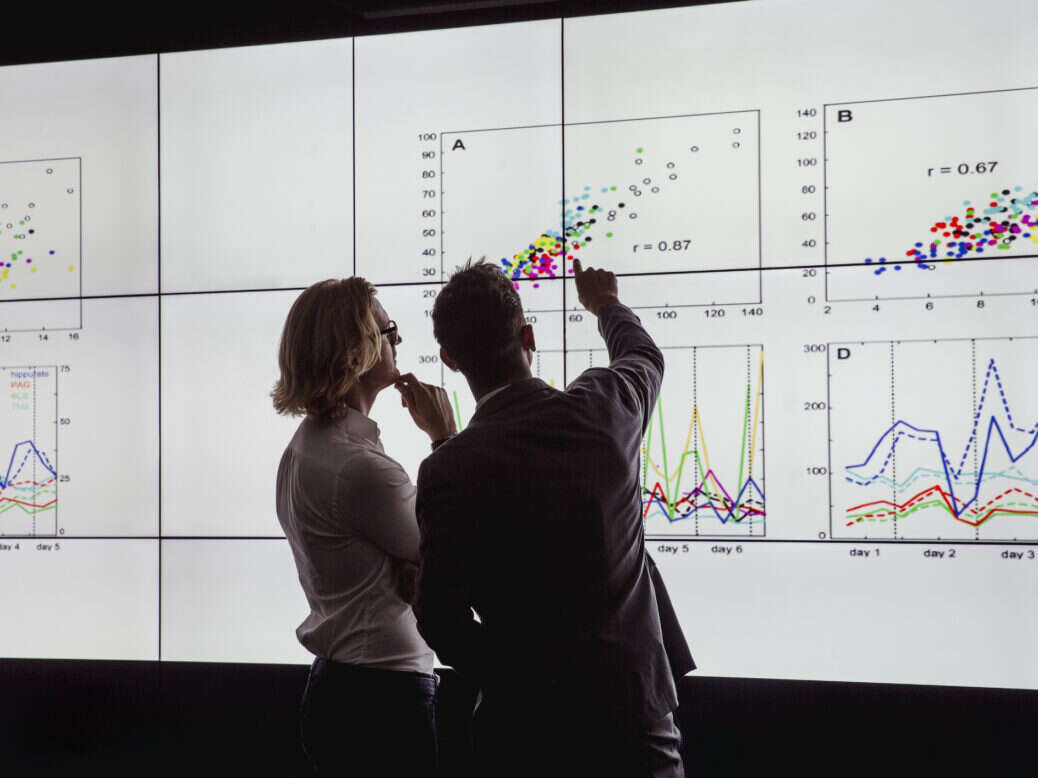 Reporters and their readers have a complex relationship with data. Journalists often think audiences will be scared away by the use of too many numbers – and a new study suggests they might be right.
In recent years, data-driven articles have become much more prevalent, with the coronavirus pandemic triggering a step change in the way statistics are reported. As the public quickly became familiar with case rates, vaccinations and R numbers, mainstream media were reporting statistics more than ever – in copy and through graphs and interactive tools. 
It was important too; public health experts have acknowledged that media reporting can support health programmes by sharing relevant information and adding interpretation and context. During the pandemic, society's health and welfare depended, in part, on consumers engaging with, understanding and acting on numbers in the news.
But there has been little research into how audiences can do that – despite it being more important now than ever. With AI-driven journalism becoming more widespread – and data being the fuel for its growth – knowing what readers want from numbers is essential.
Automated, human-written or hybrid
A new study by researchers at the Ludwig Maximilian University of Munich and City, University of London, set out to do just that – explore how audiences perceive and want from data-driven or quantitative journalism.
The researchers looked at three ways of producing such reporting. The first was traditional, human reporting: a journalist identifies the story in a dataset and manually writes it, often seeking relevant quotes and giving context on the situation in their patch.
The second was automated, where specialist reporters use templates to write stories for multiple locations at once with each version reflecting on what the data says about a particular area. These often include national quotes to give context to the dataset's contents, but since including quotes in automation templates is a challenge, they may not include them.
And the third was a combination of the two: automated reports that were picked up by journalists on local news desks and adapted for their audiences, like this example from Liverpool World.
The researchers conducted interviews with a diverse group of 31 UK-based online news consumers, splitting into eight groups to be interviewed for more than three hours each. They used 56 articles – covering UK local, national and international news – from a wide range of sources.
Of the articles, 20 were automated and used data-driven templates. A further 13 were hybrid – automated articles that were human-adapted, for example by adding local quotes or cutting content deemed irrelevant to the target audience. The final 23 were human authored, using the same data as the automated and adapted articles.
All the articles were stripped of formatting, branding and bylines, and just six of the articles had data visualisations, for which the groups were shown versions both with and without the visualisations. The articles were shown only to groups if they were of geographic or topical interest.
What readers pay attention to
Previous studies that have looked into how audiences perceive data-driven journalism (including automated stories) have only focused on its perceived "quality" and "credibility" with little consistency about what those terms mean.
The new study paints a more detailed picture. The researchers found four major categories of criteria by which audiences perceive and evaluate quantitative journalism: antecedents of perception, emotional and cognitive impacts, article composition, and news and editorial values. 
Within these categories, there were 28 criteria.
Antecedents of perception included two; relatability, for example, the parent of a school-age child being able to identify with a story about school exclusions; and statistical affinity – which the study found varied hugely between participants. Some enjoyed data in articles because, as one commented, they make "complex things easy to understand", meanwhile another said "figures just go in one ear and out the other".
Emotional and cognitive impacts covered readers' emotional reactions to articles; how much they liked the piece and how understandable both the copy and the reported figures were.
Article composition included writing style, narrative structure, use of quotes, the length of articles, how many numbers they contained and the use of visualisations. It also included word choice. Some readers objected to the use of words like "median" because they were too abstract for the average reader, or "archaic" language, like the term "pay packet".
The final category of news and editorial values included many criteria. Among them were perceived originality, objectivity, accuracy and balance, the credibility of sources, relevancy of the geographical focus, and the analysis of the figures.
While these criteria will be of use to researchers going forward, they also allowed the team to gain insights into what readers want.
Analytical and human-focused – but not too many numbers
The report's findings suggest audiences want quantitative journalism to be constructive and suggest how things can change for the better, be concise, provide analysis, have a human angle and include visual elements.
There appeared to be a shared dislike for the use of too many numbers, scales of measurement that were too abstract and complicated technical terms. 
Ultimately, it seems readers want numbers to be presented simply and in a relatable way. They want figures to be used to support the article, but not to obstruct the narrative. 
While the interviewees were diverse, the study team say the sample was not large enough to be truly representative of online news consumers.
But their findings do suggest that in spite of how numbers have become more prevalent in reporting, readers still want journalists to use them sparingly – and to never get in the way of a good story.
Email pged@pressgazette.co.uk to point out mistakes, provide story tips or send in a letter for publication on our "Letters Page" blog