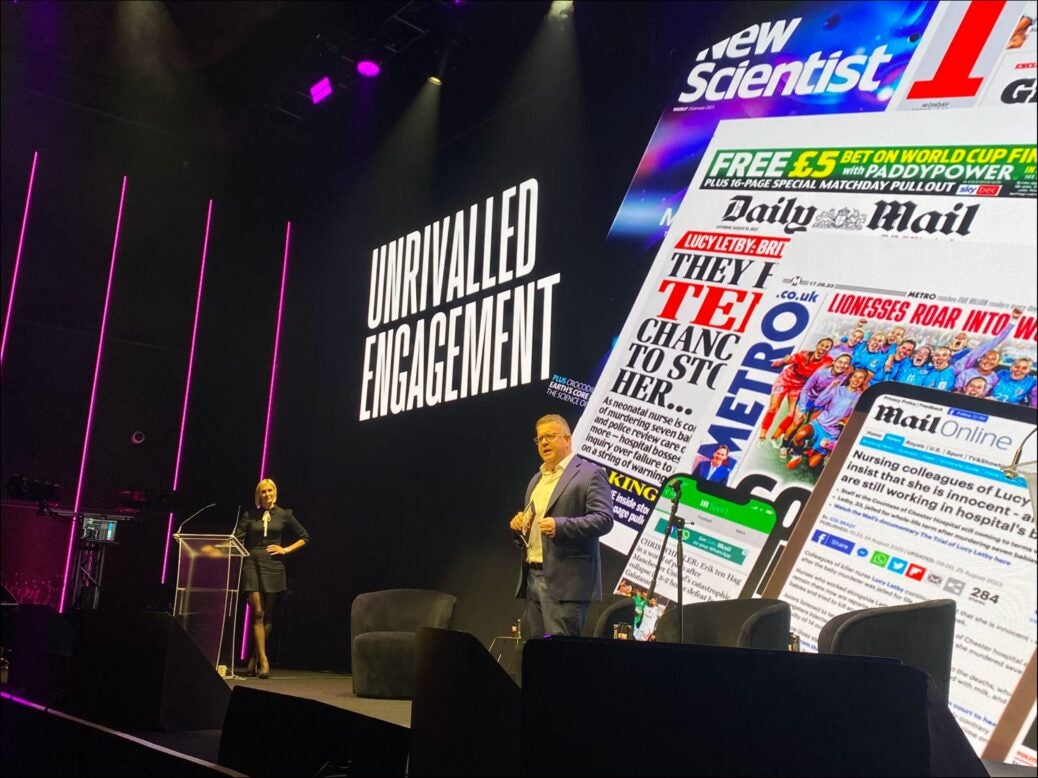 DMGT's advertising business Mail Metro Media has claimed that it has enough data about its readers (3.5 terabytes) to be insulated from the expected end of publisher cookies on Google's Chrome browser next year.
The advertiser upfront, which was attended by Daily Mail proprietor Lord Rothermere and his son Vere Rothermere and featured sit-downs with celebrity couple Spencer Matthews and Vogue Williams, explained to potential clients how MMM's ad infrastructure works – giving a unique look under the hood of the DMGT commercial operation.
Opening the showcase on Wednesday 11 October in Central London, MMM chief revenue officer Dominic Williams illustrated the company's reach by noting that the publications it represents, which include Mail Online, Metro, the i and New Scientist, collectively saw 188 million article views on the day of the coronation of King Charles. (The Daily Telegraph's print advertising sales are also overseen by MMM.)
Managing director for digital, Hannah Buitekant, said advertisers with MMM should "fear not" the forthcoming death of third-party cookies, touting the "unique advantage" offered by MMM's "3.5 terabytes" of first-party data.
MMM's ad targeting capability, Buitekant said, had delivered "over 270 million clicks to merchant landing pages" in the prior 12 months and sold "over £180m worth of products on Amazon alone".
"Our commercial content, written by journalists, shows product recommendations have an average click through rate of 30%."
Qualifying purchases made via Amazon affiliate links in the UK typically return a commission of between 7% and 12% of the purchase cost, suggesting that in the last year MMM generated at least £12m from Amazon ecommerce sales alone.
[Read more: Independent set to hit four million online registrations after pivot to first-party data collection]
How a reader gets sorted into a Mail Metro Media advertising category
Buitekant proceeded to walk the crowd through how MMM uses its first-party data to make its readers targetable for advertisers.
"The user visits Mail Online. From the homepage they read an article about Holly Willoughby resigning from her ITV show, This Morning. The user has a high dwell time over a picture of Holly wearing a dress – and by high dwell time, I mean they're hovering [their cursor] or they're static on a mobile phone screen.
"They click on an affiliate link that we cleverly put in there so that user could find out where the dress was from, landing on the merchant website. The user comes back to the Mail Online app, as they do multiple times every day, and consumes a high volume of celebrity news content. 
"They click on embedded links connected to female, fashion, beauty and parenting. The user also visits our discount code channel, seeking online codes for Asos and Very.co.uk. 
"These touch points are categorised as 'events', and combining events creates a profile that ties into a targetable segment – in this case, the profile is: female, loves high street brands, interested in beauty, high propensity to purchase. The segment is our female fashion shopper. 
"This is just one example of a profile built from 150 billion data signals that we are harnessing and making available for targeting."
Speaking after Buitekant, the company's insight director Luke Hand told attendees about Dream, a new dashboard MMM has launched to allow advertising partners to make use of the company's data.
Hand illustrated how Dream would work by describing how a cruise holiday advertiser might use the tool.
"When it comes to data, a client could access our trends-plus dashboard and browse the pre-existing demographic, intent and contextual audiences that we already have, or challenge us to build a bespoke cohort for them based on all those touchpoints Hannah [Buitekant] talked about tonight," he said.
"When it comes to effectiveness, they could search the 500 campaigns that we have in our archive, and 15 that are specific for cruise, to identify the key creative themes that drove effectiveness… they could use our audience planning tool to quickly identify which of our 13 titles and platforms are the best fit for the cruise brand.
"And finally, when it comes to media, a client could access our work which shows how newsbrands can and have influenced every stage of the purchase funnel, from inspiration through to purchase itself."
Editorial and commercial 'closely aligned'
Later in the event DMG Media's head of podcasts Jamie East chaired a panel discussion that saw editorial representatives from the i, Metro and Mail Online discuss for the benefit of advertisers what goes on inside their newsrooms.
Among the topics was an advert Metro carried, which East said probably "wouldn't have happened if the newsroom weren't so closely aligned with commercial".
Metro executive editor Richard Hartley-Parkinson held up the paper's front page for 22 March, saying: "This is from when Boris Johnson admitted that he misled MPs over lockdown bashes, but only accidentally. And we went with: 'Boris: They weren't proper whoppers.'
Hartley-Parkinson continued: "This was sent up to commercial, and they saw the opportunity and got in touch with Burger King, who went with their advert [on the front page], which here in very small writing says: 'Home of the proper Whopper.'
"And that was celebrated across the internet. Just that moment itself went viral. And it's going to be used in marketing courses in the future." (You can see the ad here.)
Email pged@pressgazette.co.uk to point out mistakes, provide story tips or send in a letter for publication on our "Letters Page" blog