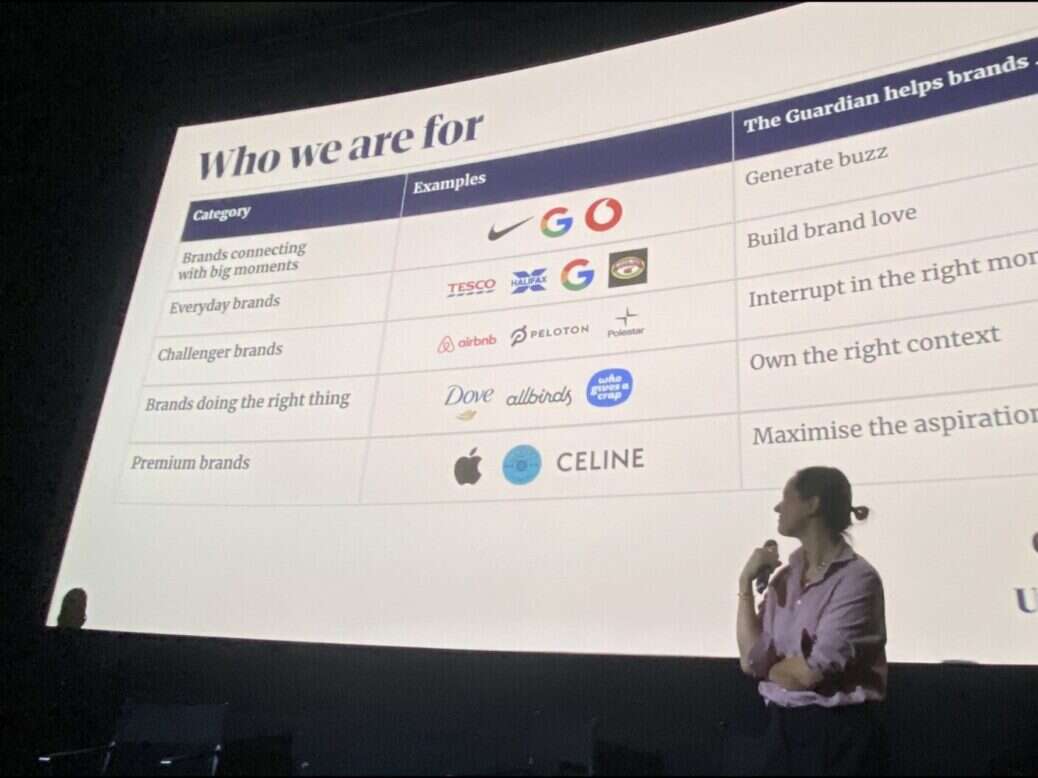 The Guardian has launched a new product it says will allow advertisers to place relevant ads in front of readers who have opted out of cookies.
The new "ad product with integrity", dubbed Guardian Light, was unveiled at the publisher's advertiser upfront last week.
The company said the development means brands "can now reach privacy-aware users for the first time in years". The Guardian claims to be the first publisher in the UK to roll out such a capability.
How does The Guardian's new 'contextual advertising' work?
The Guardian's director of clients, marketing and research James Fleetham told the event: "Right now, about 30% of people on the open web click 'reject all' [when asked if they want to opt-in to cookies]. But when they do that, we can't serve them any advertising – that is until now."
Estimates as to how many people refuse cookies vary: The Guardian's 30% figure appears to be sourced from advertiser platform Permutive, but other research puts the proportion as high as 70%.
Fleetham said the user journey might now run as follows: "You come to The Guardian's front page, you click reject all, you end up on a recipes page. 
"You will still be served a contextually-relevant ad for [a brand] like Maltesers without using any personal data.
"It's a perfect advertising product for a privacy conscious brand and a brand doing the right thing."
Guardian Light works by placing ads so they are relevant to the content on the page. Someone in the technology section, for example, might be served an advert from Sony.
The new service is provided by Opt Out Publishers, which can support both direct-sold advertising and programmatic campaigns. However, Guardian chief advertising officer Imogen Fox explained that Guardian Light functions "without using third-party cookies, tracking or any auction technology" – this is because although it does enable programmatic demand via Opt Out, this is in an automated way that differs from the traditional ecosystem.
The Guardian said on Wednesday that "early test results show that Guardian Light delivers excellent viewability scores and click-through rates".
As well as Guardian Light, the company used the upfront to launch a new homepage and section page advertiser product as well as an "interscroller" product.
The new, larger homepage ads replace MPUs ("mid-page unit" banner advertisements) and use the full width of the page to stand out better.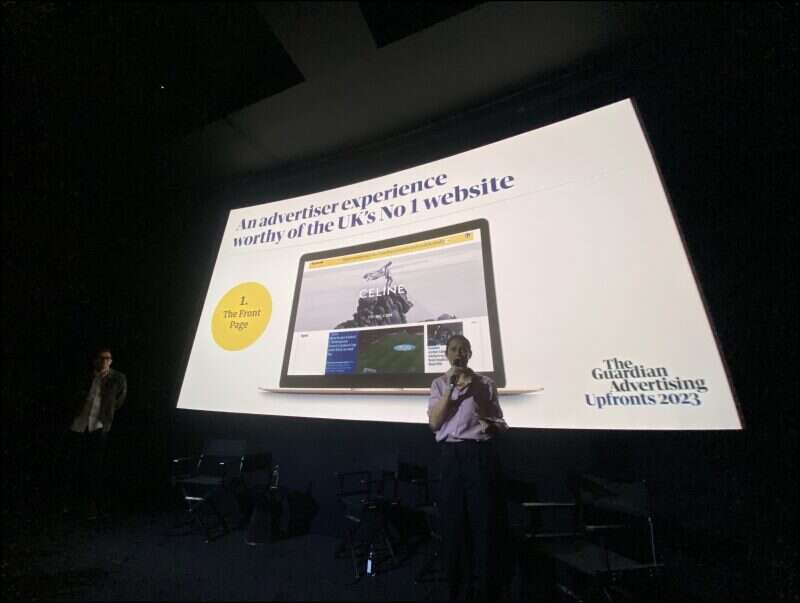 Fox said the new product had resulted in a 35% higher click-through rate than a regular section takeover.
"We think it's a premium advertising experience," she said. "And we also think that it doesn't interrupt our premium reading experience…
"It looks nothing like some of our other competitors, some other newsbrands that you may know of, which can be cluttered with ads and what we call page-out, which means it's very difficult to read an article – which is terrible user experience and it also means it's a terrible advertising experience as well, because you get no share of voice."
The interscroller is an in-article advertisement format for phones. Interscroller ads appear while a reader thumbs down an article: whereas on-page adverts usually move with the text they accompany, interscroller ads give the illusion that the reader is sliding the text over a static advert underneath.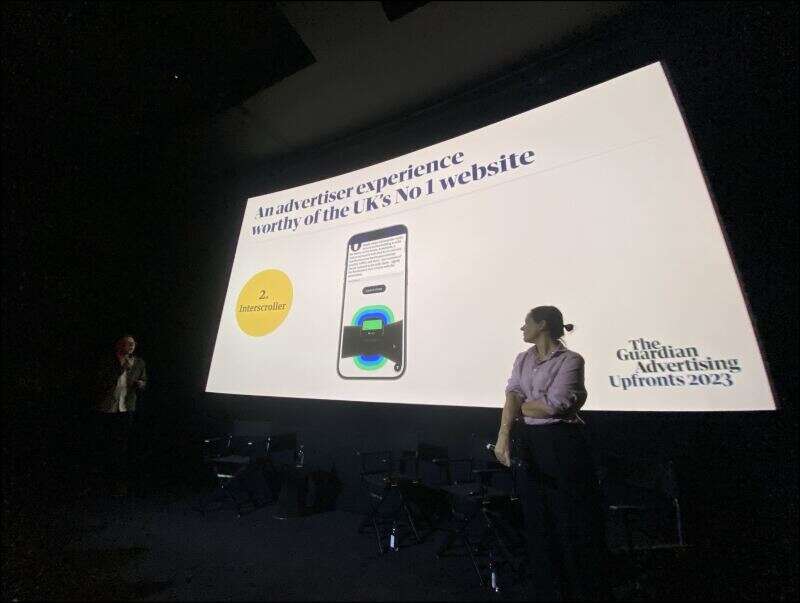 Guardian to big brand advertisers: our readers have interests beyond tofu and oat milk
Fox also told the event: "We think we might have become a little bit more famous for the advertising that we don't take rather than the advertising that we do. So we don't take fossil fuel advertising, and we don't take gambling advertising. And we're incredibly proud of those decisions, because we think they're the right thing.
"But we're also really proud of the advertising that we do take at The Guardian, and today we want to become more famous for that."
Guardian director of agency relationships Jordan Taylor subsequently pitched the publication as "a perfect environment for building everyday brands".
On average, he said, some nine million people go to The Guardian each day: "Some people still think it's all tofu and homemade oat milk, but actually, our audience love Saturday night TV – with a takeaway, probably – having a go at DIY, walking the dog and spending time with our family.
"They're really quite mainstream, and if you work with an everyday brand you really need to speak to these people.
"You might then think that everyday brands don't want to be next to the news. Well – over half of what we produce at The Guardian is what we classify as 'non-news'. That's journalism around sport, entertainment and lifestyle – in other words, the perfect environment for building everyday brands."
Fox told Press Gazette after the event that The Guardian hoped to push back against certain ideas about its readers that may have become entrenched among advertisers.
She said: "Our readership might be progressive, but they lead mainstream lives."
[Read more: Guardian bans gambling advertising]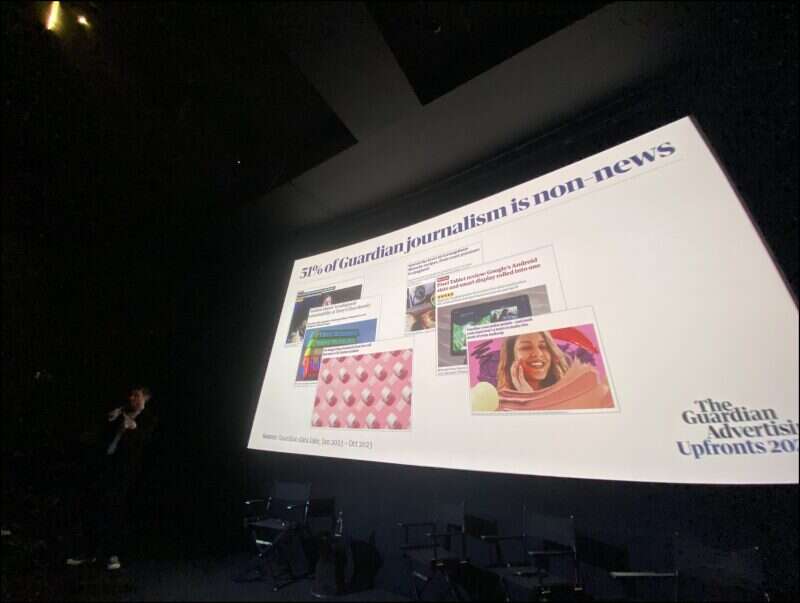 Email pged@pressgazette.co.uk to point out mistakes, provide story tips or send in a letter for publication on our "Letters Page" blog