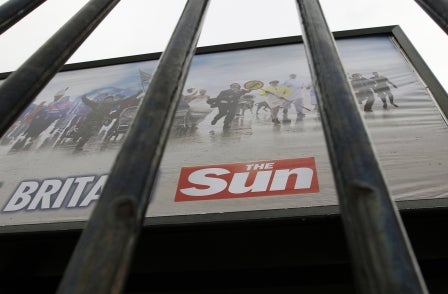 Sun publisher News UK has indicated that it won't pay prosecution legal fees of £35,000 for its reporter Anthony France.
But Judge Timothy Pontius said he felt it should pay the fees following France's conviction for aiding and abetting misconduct in public office, because it it shares responsiblity for the crime.
He was sentenced to 18 months prison, which was suspended in view of the fact France is "a decent man of solid integrity and social responsibility".
The court heard that The Sun paid France's police source Timothy Edwards more than £22,000 for information which led to 38 stories over two years.
The judge said that the defence should pay the prosecution legal costs of £35,000 and asked whether Sun publisher News UK (referred to under its former name of News International) would be paying them on France's behalf.
Defence barrister Adrian Keeling QC said he had been told that News International would not "stand behind" France on paying the prosecution costs.
This is because the publisher had declined to pay prosecution costs in the case of Sun journalist Nick Parker who was found guilty of handling a stolen mobile phone which was handed in to the paper.
Parker was given a suspended prison sentence and allowed to return to work, but was forced to pay £7,000 of prosecution costs after the company declined to pick up the bill – the court heard.
Judge Pontius said: "I think the defendant's employer bears a measure of responsibility for the structure and system under which Mr France worked."
The court heard that France has savings of £4,000 and that his family had offered to pay him a loan of £10,000 as a contribution towards legal fees.
But the judge said: "I see no reason why they should face financial hardship, they are entirely innocent of any blame. The same can't be said for News International."
In his judgment he said to France: "There is no good reason why the taxpayer should foot the whole of the prosecution's bill for bringing you before the court.
"I shall therefore make an order that you pay the full prosecution costs but I do so on the assumption that, having had the cost of your representation by leading and junior counsel and solicitors paid by News International, they will also pay my costs order.
"If that turns out not to be the case then the matter can be relisted so that I can vary the order to a sum more fairly adjusted to your personal circumstances."
France's barrister said during mitigation that the evidence was "peppered with references" to other people at The Sun involved with making payments to public officials and police officers.
He added: "If there was a wrong culture [at The Sun] it was not of Mr France's making. It was created by others for their benefit and sustained by others for their benefit."
He said that the "whole management structure" of The Sun was involved in setting that culture.
He noted that PC Edwards was a paid Sun source before he was given to France by a senior colleague.
Keeling said that France "played his part" but was not responsible for the culture at The Sun.
He said: "There's a sense that Mr France, who held the most junior full-time job it's possible to hold at The Sun, now stands to be punished for a system that was not of his creation of which he personally stood to gain very little."
Email pged@pressgazette.co.uk to point out mistakes, provide story tips or send in a letter for publication on our "Letters Page" blog