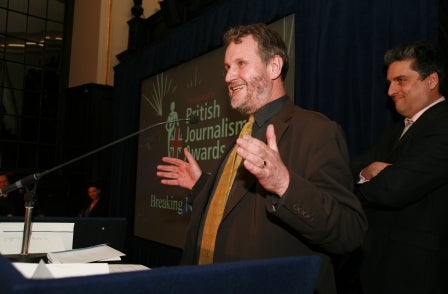 A showcase of the public interest journalism (in every sense) which saw these reporters commended by the British Journalism Awards judges in the category of political journalism.
Winner: David Hencke (Exaro)
Political Journalist of the Year went to investigative journalism website Exaro's David Hencke for a series of tax avoidance stories published across the national press.
The award went to his work on revealing the tax avoidance techniques used by thousands of public sector figures, including the chief executive of the Student Loans Company, Ed Lester. 
Revealed: special tax deal approved for senior official
Found: 2,000 civil servants working 'off payroll'
BBC pays 3,000 people via personal companies
Judges said: "His revelations over tax avoidance involving senior public sector employees was a great story which is still resonating. It is a major scandal."
Finalists
Andy Grice (The Independent)
Political editor of The Independent, Andy Grice submitted stories about how the Lib Dems would scupper the boundary review if the Tories sabotaged reform of the Lords, the toxic effect gay marriage would have on Tory morale and support for the coalition and the political effect of the Olympics.
Reform Lords – or it will cost you 20 MPs, David Cameron told
Tory MPs go to war over gay marriage
Is Boris already the first big winner of these games?
Jane Merrick (The Independent on Sunday)
One of the youngest members of the Westminster lobby, Jane Merrick exposed how George Osborne got a third runway at Heathrow back on the government's agenda and Cameron's involvement with the BskyB takeover. 
Heathrow: Tories' secret plot to build third runway
A story of hope in modern Britain: How a beleaguered city [Liverpool] fought its way back
Revealed: Cameron's secret summit with News Corp
Patrick Wintour (Guardian News and Media)
Patrick Wintour's journalism revealed George Osborne's plans to scrap the 50p tax rate for high earners, Michael Gove's secret lobbying in favour of a new royal yacht to mark the Queen's jubilee and Gadaffi's desire to cling on "like the Queen of England". 
George Osborne poised to slash top tax rate from 50p to 40p
How David Cameron swept aside sceptics over Libya campaign
Give Queen a new royal yacht for diamond jubilee, says Michael Gove
Rachel Sylvester (The Times)
Columnist Rachel Sylvester brings the ins and outs of Westminster to a wider audience without losing detail or complexities. 
Is Lansley the exception to the no sacking rule?
Power exposes the Tories internal tensions
The army is no longer the Tory Party at war
Simon Walters (Mail on Sunday)
Simon Walters disclosed that Lord Leveson had complained to The Cab Sec Jeremy Heywood about criticism of his inquiry by Michael Gove and that MPs were to get a vote on Britain's links with the EU.
Leveson's 'threat to quit' over meddling minister
How many people have I thumped? Probably 100: after THAT headbutt, Eric Joyce gives the most astonishing interview with an MP you'll ever read
At last we get a vote on Europe
Email pged@pressgazette.co.uk to point out mistakes, provide story tips or send in a letter for publication on our "Letters Page" blog